Yesterday, before I knocked off from work in the evening, I had told my colleague that I want to make some bread to 'release my stress'.
For me, breadmaking can be very therapeutical. You just throw all your frustrations into the kneading process. You punch and knead the dough as though trying to get the last breath out of your enemy. Instead of letting my Kenwood knead the dough 100% ready, I had instead machine-knead till about 75% ready and then complete the kneading process using elbow grease.
Poor Doughboy must have suffered some good punches as I threw my frustrations at him to churn out these Sausage Twists.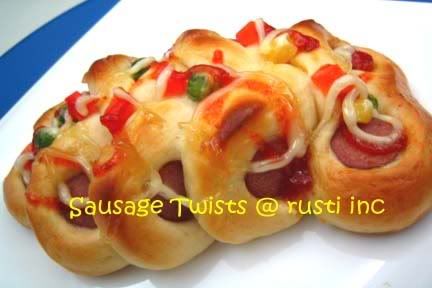 Phew! What a great stress reliever!