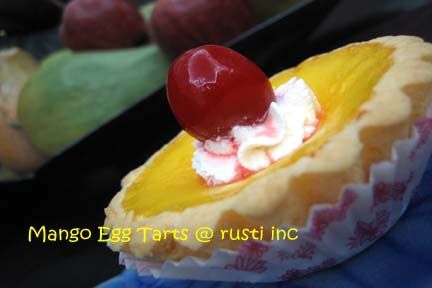 I have scribbled the date on the recipe sheet. It says May 2000 ~ six years three months ago. Aeons since I attended the class and I have not once made these tarts. It was through a conversation with Lucy aka Yochana, that I recalled having the recipe stashed somewhere in the deep recess of my cupboard.
Having dug it out, I finally got round to making these Mango Egg Tarts a couple of nights ago.
The custard is nice and smooth, like the texture of silken tofu. If you are not one for eggy tasting custard, then this is a nice recipe to try as the fragrance of mangoes (I had used the sweet & fragrant Pakistani mangoes) would have somewhat mask the smell of eggs. The tart shell is short and crumbly because of the use of pastry margarine. The recipe did not ask to blind bake the shells but I had experimented both ways. With blind baking, the shells were definitely crispier freshly baked. However by morning, both shells have turned soft although those that were blind baked were not as soft as those that were not. So unless you intend to consume them immediatey on baking then do blind bake them. Otherwise, don't bother. The difference is really not great overnight.
Mango Egg TartsPastry Shells:
110g pastry margarine
110g butter
205g sugar
60g eggs
350gm plain flour sifted with 5gm baking powder
Mango Custard:
200ml warm water (180ml if you prefer a firmer custard)
120gm mango puree
130gm sugar
180g milk
250g eggs (beaten)
Yellow color
Mango essence
Method for the Shells:
1) Cream pastry margarine, butter & sugar for 10 mins.
2) Add in eggs and beat well.
3) Mix in the sifted flour using low speed.
4) Once dough is formed, remove from bowl, knead lightly to distribute evenly. Cling-wrap the dough and rest for 15 minutes.
Method for the Custard:
1) Dissolve sugar in the warm water and add in the mango puree.
2) Cool and add in the milk, yellow color and essence.
3) Whisk in the eggs slowly ensuring no froth forms (strain if necessary) and set aside.
Assembling:
1) Preheat oven to 190-200degC
2) Press small pieces of dough into ungreased tart pans.
3) Prick the base a few times with a fork.
3a) Pour in the custard and bake for 15-20 minutes.
Or
3b) Blind bake for about 5 minutes, then pour in the custard and bake for 15-20 minutes.
4) Do not overbake. The custard should still be a bit wobbly in the centre. It will firm up on cooling.