Made this Lychee Martini Cake on Sunday in celebration of my son's 24th birthday. His birthday is actually today and because it also coincides with the first of his six exam papers, we then decide to have an early celebration for him.
I do not have the actual recipe for the Lychee Martini Cake but having tasted a slice of it late last year, I set out to create my own version of the cake.
I soaked some well drained, diced canned lychees overnight in a mixture of Lychee Liquer, Vodka and Limoncello. The 9-inch sponge cake was torted and each layer brushed with a syrup that has been laced with more Lychee Liquer and Vodka. It is then assembled with a filling of whipped cream and the 'drunkard' lychees.
The whole cake is then covered in whipped cream with toasted almond slivers on the sides. I did make a mistake of using the wrong shade of pink for the icing. I had wanted to simulate the very light pink/ivory color of the lychee fruit. The end result was a much brighter pink that would be more suited for a girl recipient than a guy.
So here is my Pink Lychee Martini Cake.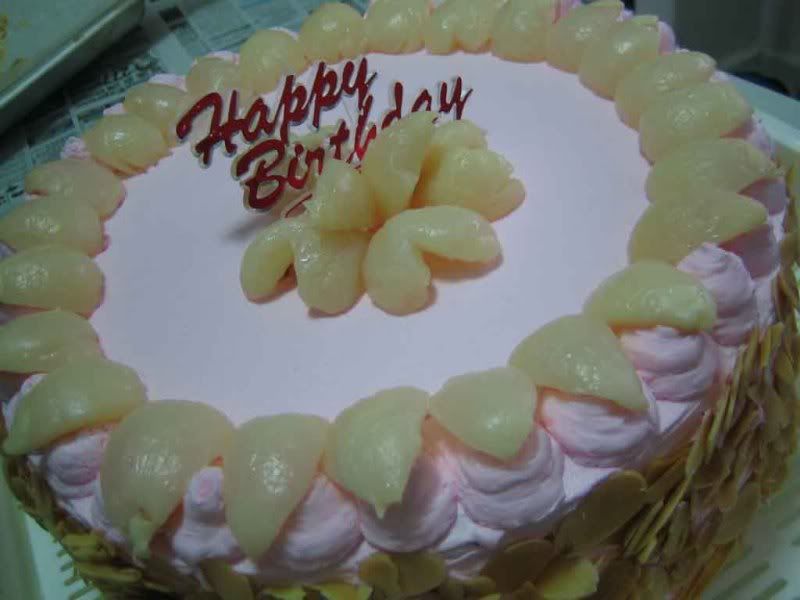 The insides.
This morning, I participated in a contest organized by the radio station
Class95
. In the past couple of weeks during the Morning Express program, listeners are encouraged to SMS in birthday greetings to people they know who are celebrating their birthday on that particular day. The prize each day is a birthday cake sponsored by
Bakerzin,
. You guess right! I participated in this SMS contest and this is the cake which I won for my son. Bakerzin has been very generous to allow the winner to select whichever cake that is available at the outlet and you are even free to choose whichever size you want.
I chose the Ambroisa, a heavenly confection of crunchy walnut dacquoise with Jivara chocolate ganache and nuggets of caramelised bananas.
A big Thank You to Bakerzin and the Morning Express Show for selecting my entry.
Another yummy treat for the birthday boy.