Lectures have ended for this semester and I am giving myself a weekend away from books before starting on my revisions for the exams.
There are lots of stuff that I wanted to make but in the end, I made only a couple of sweets: Coconut Sweet Potato Tarts, Vanilla Sponge and Candied Pomelo Skin.
The original version of tarts from AuntyYochana were made with coconut and durians. As could not find any durians yesterday morning, I substituted with Japanese sweet potatoes instead. I brought them to a birthday party last evening and they were very well received.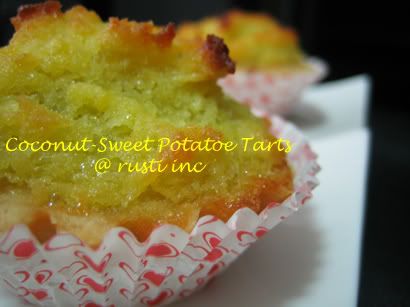 Make friends with your neighbourhood minimart owner. They keep these empty pretzels cartons for me to use as cupcakes holder. See how convenient it is to transport the tarts! I just clingwrap them. No mess! No fuss!
Pomeloes are in season now. Do not throw the skin away as you can turn them into Candied Pomelo Skin. When I was a kid, my mum used to buy this candied pomelo skin which comes in little earthened pots. The made in China type is drier and quite 'chewy' from lots of maltose. The candied skins are placed in between layers of rice paper to prevent them from sticking to each other. They no longer comes in earthen jars but are packed in boxes now. It is not easy to come by them but if you are lucky, you may find some at the Yue Hwa Emporium.
As I did not cook mine till the sticky stage, the skin retains some moisture and were slightly juicy. Very nice served chilled.
Made another simple Vanilla Sponge but turned it into a luxurious version by filling them with Hazlenut Praline that has crunchy feulleutine in it. Tasted like a 'naked' Pralet in the end but nevertheless delicious.
And more bakewares to add to the collection: a Victoria Bundt pan from Kitchen Aid some festive silicon bakeware and a Cinderella Waffle Maker. All brought back from USA by my dearest brother, Michael.