My second moonies this year. Snowskin that is flavored with Umeshu Choya, a Japanese liquer that is infused with sour Ume plums.
I could have named them Double-Wine snowskins as the fillings are a Red Wine Cranberry-Lotus Paste. However, I prefer the fancier name of Precious Choya Snowskin as each moonie is topped with a flake of edible gold leaf. It took a lot of hunting on my part before I finally found the gold leaf at the Chinese Medical Hall.
Apparently, these gold leaves have a medicinal value (I do not know what??) and they can also be used on the face to beautify the texture of our complexion.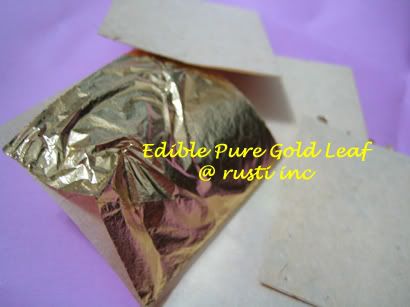 These moonies are definitely not for the kiddies as I had used quite a lot of the wine in place of the water called for in the recipe. I love how the sourish wine offset the sweetness from the skin and how it enhances the taste of the cranberry paste.