During my trip to Taiwan in April, I bought a mooncake presser from a bakery supplies shop there. I have seen similar plastic presser in Singapore however I was attracted to this particular one at it comes with interchangeable plates for different designs.
It was a breeze making these Chocolate Snowskins as I had only 'stamp' it out. I do not have to be very precise in measuring the weight of each dough covered lotus paste as the presser is able to accomodate as tall a mooncake as you want. Unlike the traditional moulds, each piece of cake has to be of the same weight. Too big and it will overfill the mould. Too small and you will have a very short mooncake. The best part of using this presser is that I did not have to make a ruckus with all the knocking and banging of the mould to dislodge the cakes.
Here are my Chocolate Snowskin Mooncakes, some dusted with edible gold luster dust.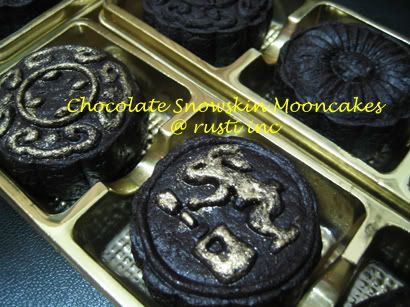 The presser with the interchangeable plates.