I am almost dying of cold turkey from not making a cake or a muffin. I have not been baking for quite a few weeks now. So I took the opportunity last weekend to bake a blueberry chocolate cake for my niece's housewarming. As it looks too plain without any decorations, I decided to whip up a devillishly sinful bitter-chocolate garnache to top off the cake. A slice of this cake can send your heart racing as it is so..ooo rich in chocolate. I christened the cake Chocoholic Anonymous.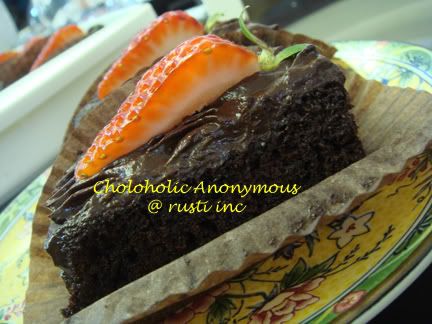 Over the National Day holidays, I attempted doughnuts. I had great ambitions. My thoughts actually went wild with all sorts of toppings and fillings:- strawberry glaze, creamcheese filling, sour cream & onion, orange curd and almond-chocolate toppings. Alas, it was not meant to be. The dough was quite soft to handle and I lost patience as I could not get a nice doughnut shape. The frying part also put me on wits ends as it browned too fast even after I have lowered the flame.
In the end, I just made some odd looking shapes and tossed most of it in a simple cinnamon-sugar or have them chocolate-dipped with a sprinkling of almonds bits and angle coconut flakes. Oh yes, I made some cute little hundreds & thousands sprinkled hearts for the little girl next door. The doughtnuts tasted good but I guess I just lost patience in making them.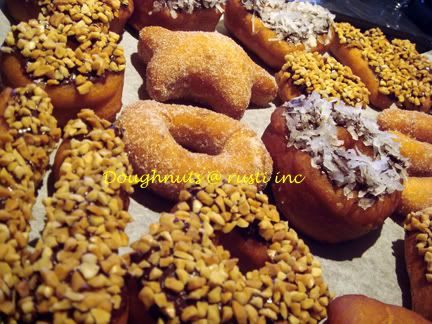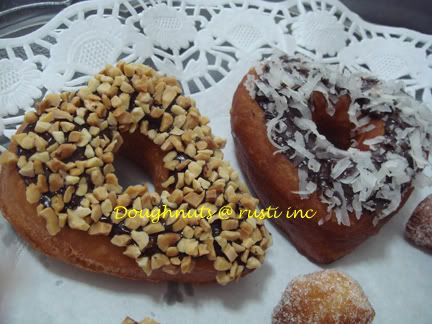 With so much oil left in the fryer, dinner was Vegetarian Pork Cutlets. Boy these were good! You just sandwich two pieces of mock ham with cheese, batter them and coat them with breadcrumbs before frying. It was real good served with mayonnaise, cold tomatoes and lettuce.