The other day, Elaine, my Filipino colleague brought back some Ensaymada from her hometown.
That was my first encounter with this cake-like bread. Actually, I am not sure if it is a cake or a bread. Anyway it was really delicious. It was covered entirely with grated cheese and it came in four flavors – original cheese, Ube (purple yam), Macopuno (young coconut) and Chocolate.
I googled for the recipe and found one which I tried today.
Mine turned out more like a very soft and fluffy bread and not dense like the one which Elaine brought back. It was nevertheless delicious with it's rich butter taste and the generous shavings of cheddar cheese. I had made three flavours. Cheese, Angle Coconut Flakes and Chocolate.
The fillings were rolled inside the flattened dough and then coiled into a snail shape before baking. After that, they were slathered with softened butter, topped with cheese and good sprinkling of sugar.
If I had not been successful in creating anything close to an Ensaymada, I had definitely found myself a recipe for soft fluffy bread that is a keeper for sure.
Proofing the bread.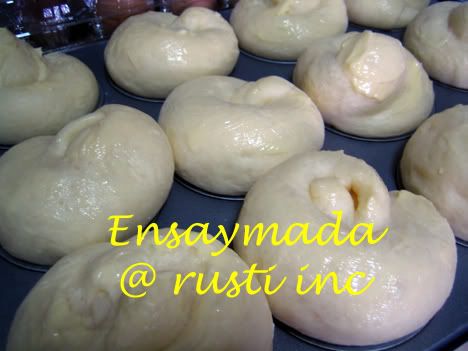 Ensaymada ~ Plain Cheese, Chocolate, Angel Coconut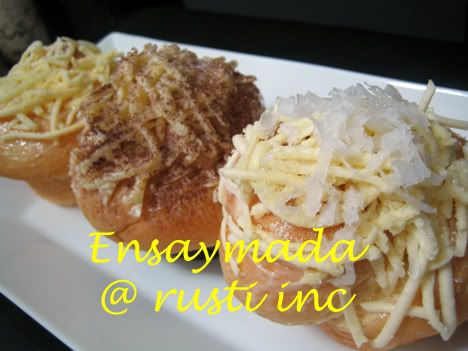 Another shot of the bread.
Inside, very soft and fluffy. This is plain, sans fillings sans topping.