What in the world is a Wedding Cake doing in a Birthday party you may ask.
I made a Croquenbroche, which is a traditional French Wedding Cake for my extended family's mass birthday celebration which falls in October. Croquenbroche which literally means "crunch in the mouth" is a tower of profiteroles stacked into a conical shape and drizzled all over with toffee. When you put one of these profiteroles into your mouth, you will bite into the crispy and crunchy toffee, which gave the cake its unique name.
Well October is the month in which there are so many of us in our family celebrating our birthdays and it has become an annual tradition whereby we will have a mass birthday party. My Croquenbroche is an updated version which I shamelessly copied from a very popular bakery in Singapore. I first laid eyes on this beautiful creation when I attended my boss's housewarming party in late September. As his wife had just celebrated her birthday a day earlier, the hardly touched birthday cake was also brought out for all of us to enjoy. That was where I got the idea to make this cake for my mass birthday party. Whilst hers was a 20cm/8inch cake with 40 profiteroles stacked on top, mine has to be much bigger for there were so many of us.
For the base, I made a 10inch square chocolate cherry cake covered with a layer of yummy and sinful rum-laced dark chocolate ganache. It was then topped with close to 80 pieces of plum-sized custard-filled profiteroles.
About half of these profiteroles were frosted in melted dark and pastel-colored white chocolate. They were then decorated with handmade sugar flowers, chopped almonds and silver & gold Nonpareils. The completed Croquenbroche was given a finishing touch with three handmade sugar Gerbera Daisies and fresh Physalis.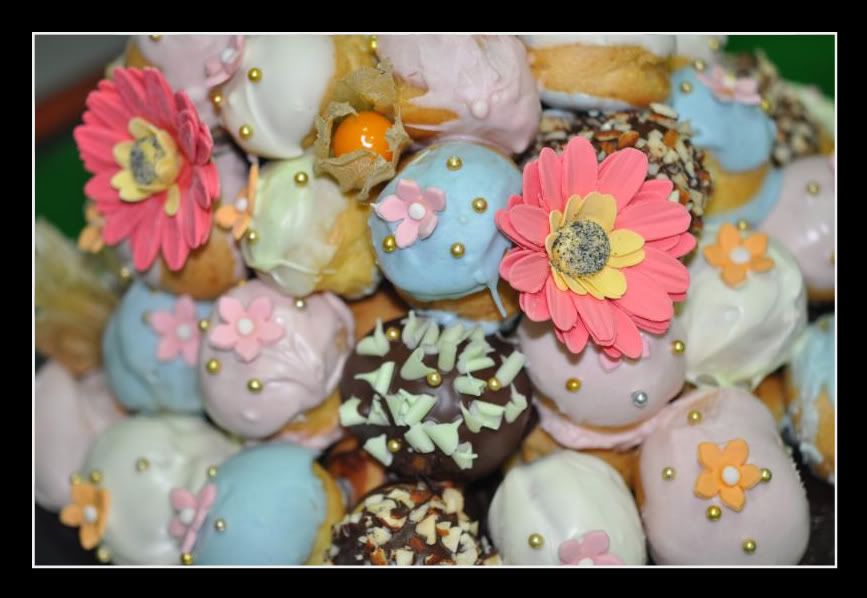 My, the whole cake weighs a tonne and am I glad I had the foresight to drive eight dowels into the cake to support the entire creation. I dread to think what would have happened had this not been done and I am pretty sure the cake base would be squashed from all the weight pressing down on it.
Until the next mass birthday party, my sincerest best wishes to my brothers Clarence and Charles, sister Yvonne, sister-in-law Betty and Susan, nephew Alvin, niece Joey, niece-in-law Riana and her toddler daughter Krisalyn, nephew's girlfriend Michelle, my daughter Sylvia and to ME. Yes me! I am an October baby too!