Yippee! I have just completed my first novelty cake. The Horror Tree Stump is made specially for my brother's godchildren. My brother, as many of the members from KitchenCaper would know, used to buy my stuff from his overseas trips. Each time he sees anything that might be of interest to me, he would MMS me from abroad and asked if I wanted them. I have acquired bundt pans, silicon moulds, electric takoyaki maker, cookie cutters and plenty more from his trips.
Recently he bought me a book on the most fantastic cupcake creations and also one novelty cakes. As a token of my appreciation to him, I decided to make the cake for the kids.
The jungles leaves, pineapples, bananas and monster foot were all shaped from gumpaste. The leaves were made two nights ago to give them sufficient time to dry out. They were draped 'casually' over bundles of chopsticks so as to create the wavy shape.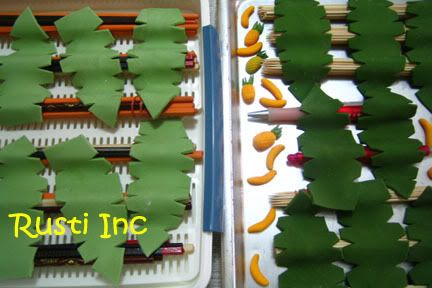 The gumpaste bananas, monster foot and pineapples were made shortly before the three layer vanilla sponge was iced in buttercream.
Another view of the cake:
And the wide-eyed children, sweaty from the playground