I never imagined that chocolate and lotus paste could be paired together. Wow! Was I ever wrong! It is definitely a marriage made in heaven. Joanna (of Karlsfoodie) offered me some chocolate moonies yesterday. I was a bit skeptical that it would taste nice. One bite and I was sold. It was like biting into a chocolate brownie. Soft and fudgy with a hint of bitterness. The fillings does not taste anything like lotus paste at all. Amazing!
They are not much to look at but then, looks are deceiving. You have to try it and I guarantee that you too would be blown away. Here are my moonies and do try making them yourself. They are awesome!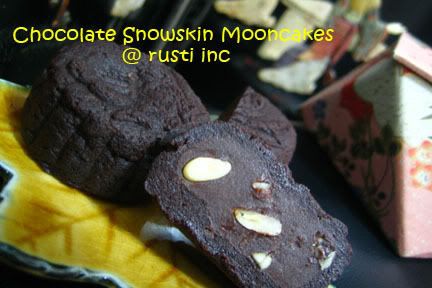 (Recipe courtesy of Cecily who attended the Phoon Huat demo class)Ingredients
Skin
130 ml water
70gm brown sugar
40gm bitter Couverture chocolate(75% cocoa), melted
10gm cocoa powder
10gm chocolate Emulco
20gm shortening
60gm Kou Fien
Method
1) Warm the water and dissolve the sugar in it.
2) Add the melted chocolate, cocoa powder and emulco. Stir well to ensure there are no lumps of cocoa powder. Set aside to cool slightly.
3) Rub shortening with kou fien first before adding chocolate mixture.
4) Mix well and then rest the dough for about 20 mins.
(I substituted one teaspoon of water with one teaspoon of rum)
Fillings
300gm white lotus paste
60gm bitter Couverture chocolate(75% cocoa), melted
1/2tsp chocolate Emulco
Optional - roasted melon seed or macadamia/pine nuts(50 gm)
1) Mix all ingredients together.
Wrapping
1) Scale fillings into required weight and shape into balls.
2) Scale dough to required weight and roll out between two sheets of plastic.
3) Enclose fillings in the flattened dough and press into mould.
4) Knock out the mooncakes and chill in an airtight container before serving.