Finally, my four lessons on Advanced Cake Decorating has ended.
I feel I am not cut out to do cake decorating. My hands are shaky and I am still unable to apply the correct pressure on the icing cone. Though the flowers are better executed, the animal figurine is another story. They are either deformed or mutated!
Elephant:
Does it look anything like an elephant to you? It is more like a cross between an elephant and a rhinosaurus. His trunk seems to have been chopped off leaving a snout like nose.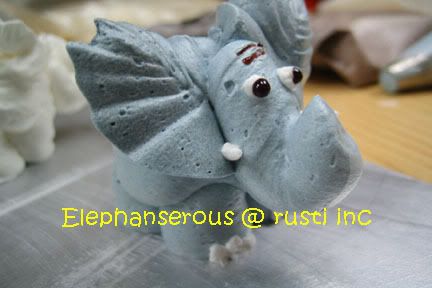 Duckling:
They are supposed to be so cute and adorable. Sadly what I have produced is the proverbial Ugly Duckling. I am sure Hans Christian Andersen would have been so proud to use my duckling as the cover picture for his famous storybook.
Clowngirl:
This is a different piping method from my
Freaky Clown
. In the Freaky Clown, we had only to pipe the body as the clownhead is a readymade plastic cake topper. For this Clowngirl, we had to pipe the collar, face, features and hair. To tell you the truth, I had intially piped a Boy Clown. But because I had given him very effiminated features on his face, my instructress decided to give him a 'sex operation' by adding long yellow tresses complete with ribbons, thereby turning a him into a her.
We were also taught how to pipe other animal figurines like Garfield, frog, rabbit head and bulldog. Mine turned out so hideous looking that I did not even bother with taking photos. They were just so arggh looking.
As in the Basic course, we had to decorate a cake in order to 'Graduate'. We have the option of doing an animal or floral theme. I decided on the floral theme as it is easier and is less time consuming as I do not have work with so many colors.
So finally, my Blooming Birthday cake. Simply decorated with roses and rosebuds. My instructress assessment is that the yellow is too intense and the leaves under the roses could have bigger. My arrangement of the roses is a bit wrong as I did not follow the correct 'size' convention. On the whole, she says it is quite good. (I secretly wondered if she had ever failed any student!) On my part, I was pretty satisfied with my artwork especially the wordings, which is my virgin attempt at writing with icing.