Hello Hello! I am back. I will compile photos of the meals that had added kilos to my weight (sigh!) and I hope to have them up by the end of this week. Food is really cheap cheap! Die die must eat.
Anyway, on returning I had to get my hands working. Made a super easy and quick Nutty Milky Jelly Pudding for a kiddies birthday party on Sunday. Weird combination of peanut butter, rice flour and coconut milk but tastes very good when chilled.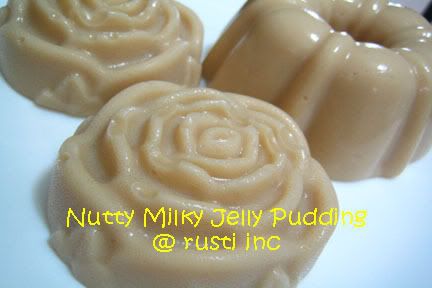 I bought a wooden mooncake mould from KL that is carved with a dragon motif. Just cannot wait but had to quickly 'Open Ceremony' for the mould. Using the red dragonfruits bought from Malaysia, made some Pitaya Snowskin Mooncakes. What a glorious purple and it's all 100% natural with no added food colors.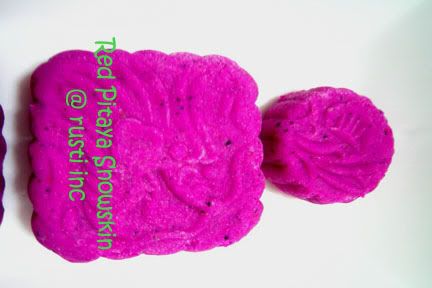 Ingredients:
150g kou fen
200g icing sugar
70g shortening
120g red dragonfruit (chilled)
80g iced water
A few drops of banana essence (optional - add to iced water if used)
Extra kou fen for dusting

Fillings:
Your choice of lotus paste
Salted eggyolk (cooked)
Method:
1) Dice dragonfruit and blend into a puree.
2) Sift kou fen and icing sugar into a mixing bowl.
3) Mix in the dragonfruit puree and iced water.
4) Add in shortening and mix till dough is smooth.
5) Cover and set aside to rest for 30 minutes.
6) Scale lotus paste and skin to fit your mooncake mould.
7) Flatten out the skin between two pieces of plastic wrap.
8) Enclose lotus paste in skin and press into well dusted mooncake mould.
9) Turn out and chill in an airtight container before serving.