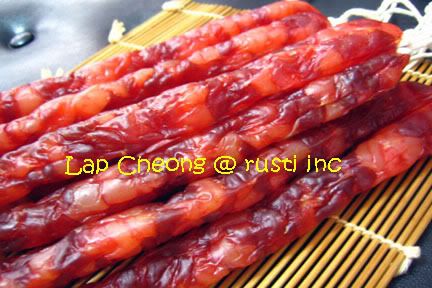 Yes, finally I am ready to post the recipe for the Lap Cheong, or Chinese Sausage.
Since I first posted
Of Chinese Sausages & Hot Dogs
and then
Chinese Sausages Again
, I have received many enquiries and requests for the recipe. I did not want to post the recipe then as I was not satisfied with the results. So after three tries, I am ready to share my recipe.
So for Jo of JoDeli, Lance, Vivien92130, the numerous Anonymous readers and my friends who either telephoned or emailed me, here is the recipe:
Ingredients:
350-400g fatty meat
1-1/2 tbsp Gao Liang wine
1kg Lean Pork (from the hind leg)
1 cup sugar
2-1/2tsp salt
2-1/2tsp msg (okay, I know some of you are opposed to msg. Omit if you wish)
1/2 cup Gao Liang wine
1-1/2tsp cinnamon powder
2tbsp fish sauce
Ponceau 4R (光红) food color or char siew food color
Sausage casings - about 5m
Things you will need:
a funnel, a pin, parcel twine tied into loops, small strainer.
Method:
1) Absorb all excess water from the fats and cut into 1cm cubes.
2) Mix with the Chinese wine and leave in the fridge to marinate for at least 1 hour.
3) Absorb all excess water from the lean pork and cut into 1cm cubes.
4) Mix with the seasonings and leave in the fridge to marinate for at least 1 hour.
5) Cut the sausage casings into your desired length x 2 + 10-12cm for tying. Soak in water to soften. Give it a few squeeze under running water to remove any dirt and squeeze out excess water.
6) After marination, mix both the fats and lean meat together. Use the strainer to drain off excess marinating liquid before filling.
7) Tie one end of the casing, attach funnel to the open end and start to stuff the meat into the casing.
8) Ease the meat to the end of the casing as you stuff.
9) Use a pin to burst any air-pockets that forms between the meat.
10)The meat must be quite tightly packed but do not overfill otherwise the casing may split open.
11) Once casing is filled, tie up the other end. Visually divide the sausage into half and twist it to make into 2 links. Tie the twine loop at the link.
12) When all sausages have been filled, use a piece of clean cloth that has be wringed out of excess water to wipe down the sausages before drying them.
13) Dry by blowing with a fan at it's highest setting non-stop (yes non-stop). I blew the sausages for 48hours and then followed by another 48hours air drying.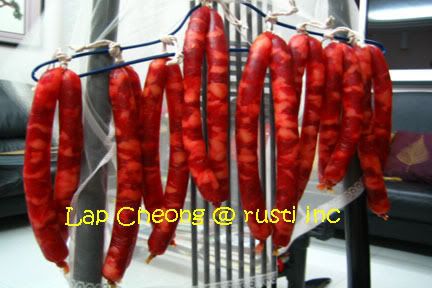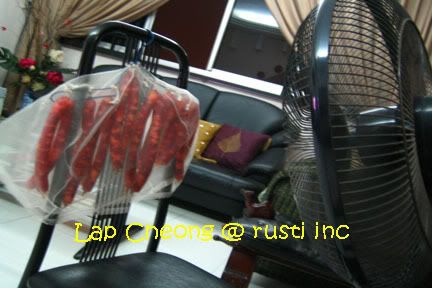 Note:
1) I cut my casings into 55cm length.
2) For the first knot, you can tie as close to the end of the casing as possible.
3) After filling, it is quite difficult to tie the second knot if you do not have sufficient casing left over. For me, I need about 7cm of casing to comfortably tie the knot.
4) When tying the second knot, do not tie too close to the fillings as you need to give some slack when you twist the length into two links. If you tie too close, your casing may burst due to the pressure applied when twisting.
5) Always inspect the filled sausages for air-pockets and burst them before twisting.
6) These sausages are not too 'sweet', if you prefer a sweeter sausage, you can either omit the fish sauce or add extra sugar.
6) I chose Gao Liang Wine because the alcohol content higer and it helps to prevent the meat from turning bad7) The above quantity yields 8 pairs of sausages based on a finished length of 22cm each sausage, which is longer than the commercial sausage.
8) As no preservatives is used in the process, please store the sausages in the fridge.
9) Sausage casings can be purchased from:
Chop Leong Aik Leong
Blk 333 Kreta Ayer Road #01-28
Singapore 080333
Tel: 6222-0234
Price is S$10/bundle of approx 5m.