If you have read my earlier post
Of Chinese Sausages & Hot Dogs
you would know that I had previously tried to make some Chinese Sausages. Although I was happy with the taste, I was disatisfied with the end result because, instead of being smoke-dried, the sausages ended up being almost cooked.
I made a second attempt yesterday. A smaller batch this time of only a kilo of meat. I set the oven to fan-forced assisted, at a low 60degC and left them inside for a good 10-hours afterwhich they were left to cool in the oven overnight. They are still not fully dried when I took them out this morning. Not wanting to put them back in the oven to dry, I enlisted the help of Mother Nature to air dry them. I have no idea how long it will take ~ 12 ~ 24 ~ 48 hours??? I hope they will not turn bad but I guess there is enough Chinese wine in the meat to preserve it. Well you won't know till you try it right?
Freshly stuffed & drying in the oven at 60degC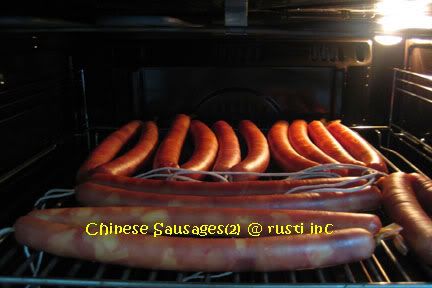 After 10 hours in the oven, they have shrunk somewhat but not fully dried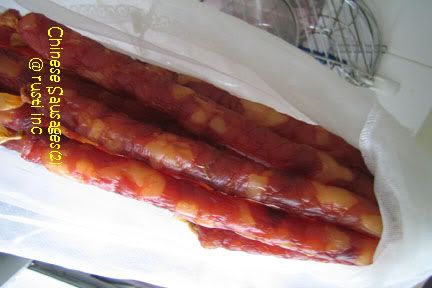 I removed and used the 'veil' from a netted food cover to protect the sausages from dirt to finish off the drying process.
So now, I will just twiddle my fingers and wait in anticipation for them to turn into skinny wrinkly sausages.
Keep tuned to this blog for the result.Addendum added on 1 Sep:
After 24-hours of air drying, the sausages have reached the correct level of dryness. My fears of them turning bad were unfounded as the added wine had done it's job of preserving the meat. My only grouse now is that the flavor is not as intense as the commercial ones. I will have to relook at the seasoning proportions for a more flavorful sausage.
~~~~~%%%%~~~~~~
While the sausages were drying in the oven yesterday, I managed to make a Spicy Sindhi Chicken Bryani for lunch. Taste was great except that the rice was softer than I had wanted. The bryani was accompanied by a salad of cucumbers, pineapples, large onions and green chillies tossed in tangy Indian yoghurt & washed down with a glass of refreshing Lemongrass Lemon Chiller.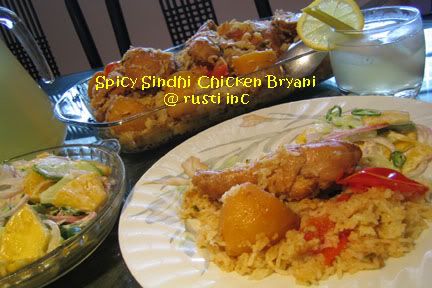 Thank you to Zurynee who pointed me to where I could purchase the Sindhi Bryani Spice Mix.