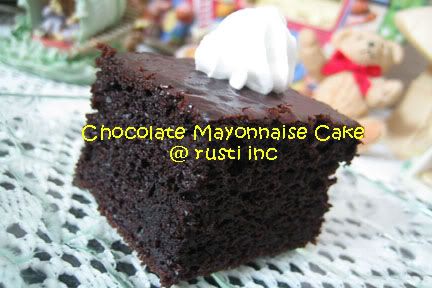 This was made last night. I have heard of homemade facial masks using mayonnaise but a chocolate cake! Well I never. At least not till now!
Surprisingly, the texture is so soft and light. The mayonnaise is not overpowering as I can only detect a faint aftertaste. But then, I suppose the brand of mayo may make a difference as some are more sour, salty or even oilier tasting than others. (By the way, I used Heinz 'Original Recipe' mayo). You can top the cake with a chocolate ganache if you want a richer (read: fatter on the waistline) chocolate taste.
This is an extremely easy and fuss-free recipe as all you need is a wooden spoon/hand whisk to mix the ingredients. No electric mixer is required.
Ingredients:
110g mayonnaise
125ml buttermilk
1 tsp vanilla essence
120g all-purpose plain flour
20g cocoa powder
1-1/2 tsp bicarbonate soda
110g sugar
(There is no typo mistake here. This recipe uses neither eggs nor butter)Method:
1) Line a 7" square baking tin with parchment paper (no need to grease).
2) Sift flour, cocoa and bicarbonate soda together.
3) Place the sugar and sifted flour mixture into a bowl.
4) In a separate bowl, mix the mayo, vanilla essence and buttermilk till smooth.
5) Add mayo mixture to the flour and mix till the batter is smooth.
6) Pour mixture into prepared pan and bake at 170 deg C for 20-25 minutes.
Note:
If you have no buttermilk, you can add 1-1/2 tsp of lemon juice to a glass of milk to make up to 125ml.