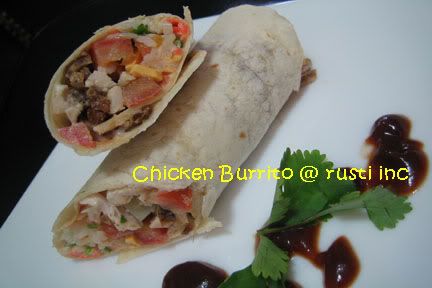 Lunch today is a light Chicken Burrito ~ made up mostly from leftovers.....
Chicken shreds from half a roast black pepper chicken leftover from Friday's dinner. Garlic-butter rice leftover from yesterday's lunch. Balance of the carrots, onions & potatoes bought to make the coq au vin.
The Burrito pancakes were bought in the wee hours of Sunday morning from the 24-hour supermarket of Mustafa. Added some cheese to the fillings with a good squeeze of Japanese salad cream and hickory BBQ sauce. Perfect!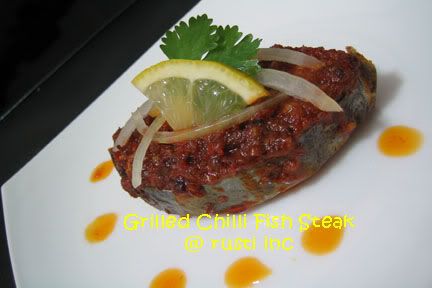 And for dinner, Grilled Batang Fishsteaks topped with sambal chilli. The fish were not bought today but were from a batch bought the previous Sunday. The fishmonger had 'insisted' that I buy the whole tail section and it was just too much to cook at one sitting. After one week in freezer, the flesh is still very firm with no deterioration in texture. The fish is grilled with a head-popping sambal chilli that was given to me by a relative that runs a BBQ Seafood stall. Served with a squeeze of lemon. Superlicious!