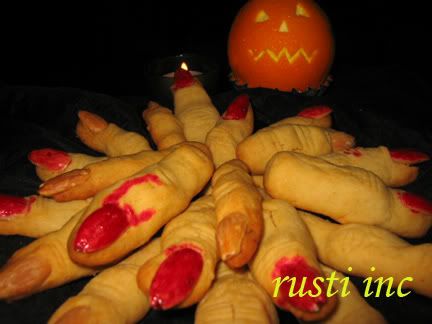 Since Halloween is just around the corner, I thought I'll post this cookie recipe for those who are interested to make them. These cookies were made last year. My daughter and I had so much fun shaping the fingers. It can be quite scary looking at all the 'amputated' fingers lying on the tray as they are so life-like.
The cookie dough is very soft and you will need to refrigerate the whole batch in the fridge till it has hardened. Take just enough dough to work with leaving the balance in the fridge. Make sure the almond is pressed in firmly otherwise it will drop off upon baking. You can give the 'nails' a manicure by painting them with a little red food color. Lastly, do not roll the fingers too fat as the dough expands quite a bit on baking.
Ingredients:
250g butter
50g castor sugar
1 tsp salt
1 egg
20ml cold water
4 tbsp Bailey's Irish Cream
380g All Purpose Flour
1 tsp baking powder
50g Ground Almond
1 tbsp Grated Lemon Peel
3/4 cup Almonds, whole blanched (for finger nails)
1/2 tsp almond extract
Red food coloring (optional)
Method:
1) Cream butter, sugar, salt, eggs and vanilla essence with an electric mixer until a light and fluffy texture is achieved.
2)Add in cold water and Bailey's to the mixture and build in the rest of the ingredients to form a soft dough. Refrigerate dough for about 30 minutes before use.
3)Work with one quarter of the dough at a time and keep the remainder refrigerated.
4)Roll heaping teaspoonfuls of dough into balls and then into finger shapes.
5)Using two fingers, roll across the fingers to form the knuckle.
6) Press almonds firmly on the one end for the nail.
7) Using a paring knife, make slashes in several places to form the knuckles.
8) Place on lightly greased baking sheets and bake in a 160C oven for about 20-25 minutes or until pale golden. Let cool for 3 minutes.
9) You can paint some slashes on the finger with red food coloring as the blood.