October is month of mass birthday celebration in our family.
There used to be nine of us celebrating our birthdays this month. However this year, the figure has gone one notch up with a new addition in the form of a precious little girl named Krisalyn (my nephew's baby daugther). Krisalyn is just over 2 weeks old.
Tonight, all the birthday babies gathered at my brother's house for the bash. The youngest are celebrating their 19th birthday (my daughter & my niece) while the oldest is celebrating his 61st birthday (my second brother). Baby Krisalyn and her mommy did not join in the party as they are both still in confinement. Coincidentally, Krisalyn and her mommy shares the same birthdate!
My brother also invited two of his very good friends who are also October babies to join us in the merrymaking.
The task of making the birthday cake fell on me. I decided to make twelve individual cupcake baby for the each of us and one centrepiece symbolising a gaily wrapped birthday gift.
The cupcakes are vanilla flavored with an tangy orange curd filling. They are covered in buttercream before being topped off with a gumpaste baby sleeping snugly under a peppermint flavored marshmallow fondant (MMF) blanket. The blanket is then further individualised by an alphabet representing the person's name.
So I had A=Anna Alvin, C=Clarence Charles Crisalyn (my mistake, I thot it was spelt with a C), G=Ginny (hey that's me!), J=Joey, L=Leana, R=Riana, S=Susan Sylvia (my daughter) and finally Y=Yvonne.
The gift cake is a cappuccino sponge sandwiched with a layer of butter cream and black cherries and covered with the same peppermint MMF. (Hmmm come to think of it, both the cappunccino and peppermint flavor did not come through strong enough!). The pink bow is made from gumpaste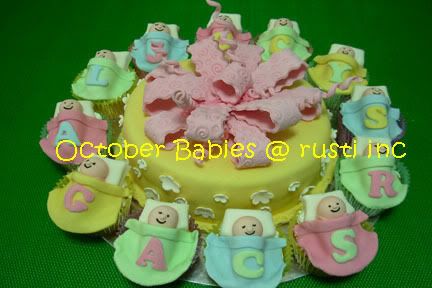 As the party is a potluck thingy, I also made a Japanese Style Salad Parcel. To serve, you place sticks of raw vegetables (carrots, capsicum, celery, cucumber), ham, Japanese glass vermicelli and a spicy minced meat mixture onto a lettuce cup. The parcels are light and refreshing. Absolutely delicious!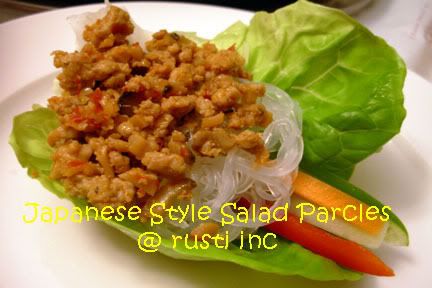 The rest of the spread: