Grand Aunt Ginny! What a fine title for me! This is what I shall be known as to Krisalyn, but then it will be another 14-16 months before she learns how to address me by that grand old title.
Last Saturday, we celebrated her First Month. I decided to present her parents (my nephew) with a 1st Month Cake.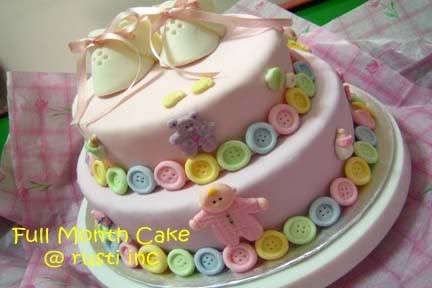 This is the first time that I've attempted a 2-tier cake. The pineapple yoghurt buttercake was covered with a cheesecake flavored Marshmallow Fondant. The top tier is in pink and the bottom tier, a very light lavender.
The baby booties and other baby figurines are all made out of gumpaste. I had so much fun making the booties and shaping the buttons. It was a blast!.