Since setting up this blog in July, I had received several enquiries if I sell my bakes. I would love to except that I am holding on to a fulltime job and I am really afraid to say yes lest I have to back out at the last minute due to work committment.
After posting the cake which I made for my grand-niece's full month, I received an enquiry to make a similar cake for a baby boy. I had initially said no. But after rechecking my schedule (I am in the midst of preparing the office move), I agreed, hence my first cake sale.
The weather these last couple of days are really not sugarpaste-friendly as the sugarpaste accents takes forever to dry. I was also worried that the sugarpaste accents may turn soft and gooey due to the increased moisture in the air. Luckily for me, except for a few buttons that turned wet, the rest were okay.
Here is the cake for Baby Naaman, a two-tier chocolate buttercake sandwiched with strawberry buttercream fillings. Cake is covered with Marshmallow Fondant (MMF). Buttons, booties and bears are sugarpaste. Bows, ribbons, baby clothings are all MMF. The nameplate is sugarpaste with the name Naaman written with edible food marker.
Side view
Back view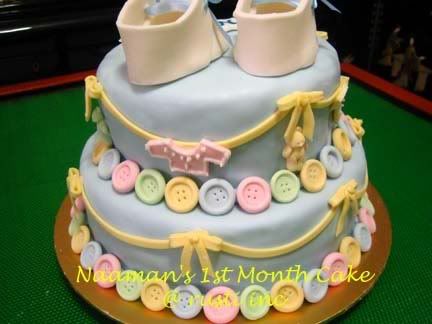 All packed and ready for collection