If Dogs have CPF* then my dear doggie, Rusti, would qualify to collect his provident fund savings today. You see, today is Rusti's 8th birthday. In human terms, that makes him 56 years old.
For his birthday treat, I made some Doggie Honey Cookies for him. The cookies were very good, not too sweet and fragrant. I tasted them and why not? They were made with honey, wholemeal flour, eggs, soy oil, unsweetened soymilk and flavored with ground ginger and vanilla. Entirely wholesome ingredients that you and I will eat.
There is nothing doggie about the cookies. No Siree!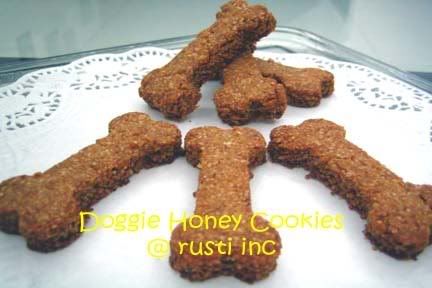 Doggie Honey Cookies
Ingredients:
1/4 cup soy bean oil or cornoil
1/4 cup honey
1/2 tsp vanilla essence
1/2 egg
2 tsp unsweetened soy bean milk or lactose-free milk
250gm wholemeal flour
50-75gm plain flour
3/4 tsp baking powder
1/4 tsp ground ginger
Method:
1) Preheat oven to 175 degree C.
2) Sift flour, baking powder and ground ginger together and add the wholemeal flour.
3) Mix oil, honey, vanilla, egg and milk together.
4) Add dry ingredients to the wet mixture and mix into a dough.
5) Roll dough on a lightly floured surface to about 1cm thick and cut into desired shapes.
6) Place on parchment paper (or greased cookie sheet) and bake for 20-25 minutes till dry.
7) Cool and store in an airtight container.
(
Note:
The original recipe sets the oven at 190 degree C which I find too hot as it burns the cookies before it can dry out.)
Here is Rusti chomping down his cookies. In the eight years, I have never managed to take a good picture of him due to the hyper nature of Jack Russell Terriers. Rusti will not pose for you.
(*For the benefit of our overseas friends, CPF stands for Central Provident Fund, a welfare savings plan whereby the employer and employee will make an x% of contribution based on the monthly salary to the Fund on a monthly basis. This Fund can only be withdrawn when one reaches the age of 55.)