Sophia will be 10 tomorrow. I had promised my colleague that I will make her daughter a handbag cake for her birthday.
Since Sophia's fav color is blue, I decided on a blue bag.
I had wanted to incorporate her initials on the cake but in the end decided to make hanging gold charms instead. The letters 'S' and 'K' are made from gumpaste and then painted with edible gold luster dust.
Starting with two 8" vanilla sponge sandwiched with strawberry filling, I began to sculpt away. I did not have any particular design in mind and I just went with the flow as I covered the cake in blue MMF. As she is still a kid, I decided that the finished bag must not be too mature for her and so decided to use pink trimmings (due to lighting conditions, the pink turned out looking white in the pictures).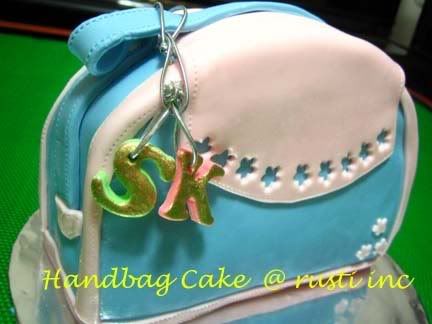 My only concern now is that the cake would topple over during my drive to work tomorrow. I am crossing my fingers (and toes) that the cake will remain upright at the end of the journey.