This was last Sunday's lunch which I only found time to post now. I did not follow any recipe but made a shopping list of the ingredients I think I need. I ended up with 2 trays of beef chuck tender, 2 bags of carrots, 1 bag each of large onions and potatoes, 1 bottle of Virginia Dare Cooking Sherry, 2 boxes of chicken stock, a 3-pouch pack of Masterfood Bouquet Garni. On an impulse I added two cans of stewed whole tomatoes into the trolley. Not wanting to have any vegetables leftover from cooking, I proceeded to use up everything in sight. So in a way, I created my own recipe as follows:
My Beef StewIngredients:
1.7kg beef chuck tender, diced into cubes
500gm large onions, chopped
1kg carrots, diced in big chunks
1kg potatoes, quartered
12 garlics, smash and remove skin
375ml cooking sherry
2 litres chicken (or beef) stock
2 x 411g canned stewed whole tomatoes (I added the juice from only one can of tomatoes)
2 tbsp maple syrup (also added on an impulse to balance the sourness of the tomatoes)
2 pouches bouquet garni
4 tsp black pepper
4 tsp worchestire sauce
Flour for dusting
Olive Oil
Method
:
1) Dust the beef in flour and brown in batches in some olive oil. Set aside.
2) In a deep pot, sweat the large onions in some olive oil. Add garlic and continue sauteing until the onions is almost caramelised.
3) Add the browned beef, black pepper and worchestire sauce and stir for a while. Add in the cooking sherry. Let it simmer for a while to evaporate the alcohol.
4) Add the bouquet garni, carrots and 1 litre of chicken stock. Bring to the boil and then lower heat. Simmer for about 45 minutes stirring occasionally.
5) Add the potatoes and the balance 1 litre of stock and continue cooking till beef is tender.
6) Adjust seasoning. (At this point, I added the maple syrup!).
7) Serve hot with a crusty bread and a green salad.
Washed down with a glass of refreshing Mint Lemongrass Lemonade Chiller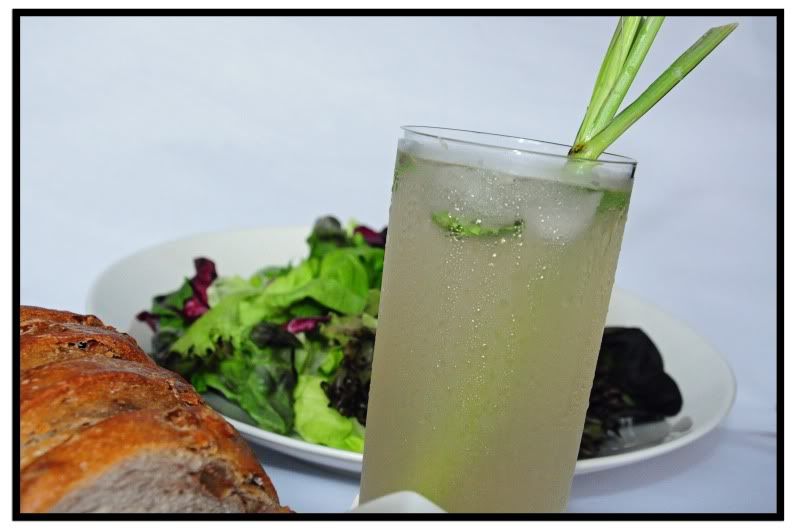 Note:
1) You may wish to thicken the stew if you find it too watery. I made a roux by melting approximately 100gm of butter in a small saucepan over low fire. Add 1 heap tablespoon of flour and fry till the flour turns slighty brown. At this point remove the saucepan from the flame and pour in a 1/2 cup of water and stir till smooth. Bring saucepan back to the flame and stir till thick and shiny. Temper the roux with some gravy from the stew before adding it to the stew to thicken it.
2) I did not add any salt to the stew as the chicken stock is already salty as is the bottle of cooking sherry from Virginia Dare.