I bought a tray of lovely luscious golden apricots from the supermarket last night and made these yummy Apricot Cheesecake Ripple which was adapted from a recipe originally using plums.
The cake has a very nice caramel flavor coming from the dark muscovado sugar and a slight salty flavor from the creamcheese ripple. Once baked, the apricots were bursting with juice, was cottony soft and it felt like with each bite, tangy apricot conserve oozing into your mouth.
It would be a good idea after filling the tray to drop the tray a couple of times onto your table top to remove any trapped air bubbles. I did not do that as you can see from the picture below – two big holes in the cake.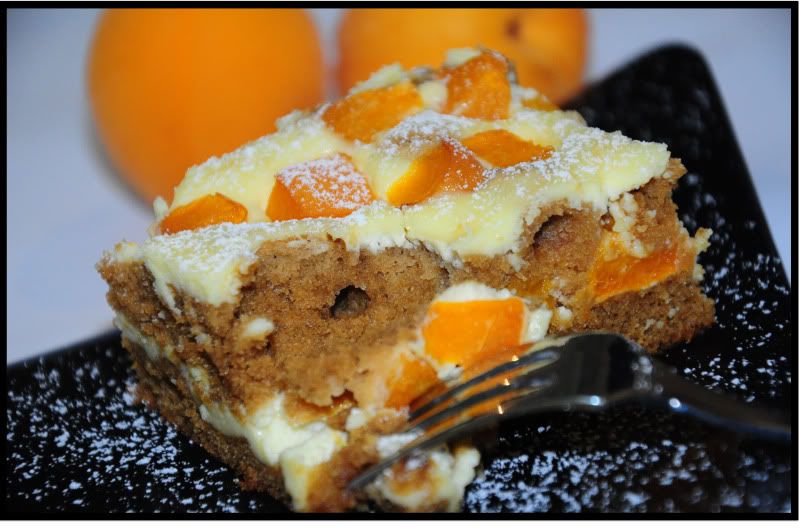 Apricot Cheesecake Ripple
Ingredients:
250g cream cheese, softened at room temperature
1 tsp vanilla extract
3-3/4 tbsp sugar
5 eggs
220g butter, softened at room temperature
220g dark Muscovado sugar
250g plain flour
1-1/4 tsp baking powder
400g fresh Apricots, halved, stoned and diced
Method:
1) Preheat oven to 175 degree C.
2) Grease and line a 20x30cm lamington tray making sure the paper is extended about 5cm above the tray on all sides (this is to add removal of the cake after baking).
3) Cream the cheese, sugar, vanilla extract and 1-1/2 eggs together till smooth and free from lumps.
4) In another bowl, cream the butter and Muscovado sugar till creamy. Add the balance 3-1/2 eggs and continue creaming till light and fluffy.
5) Beat in the sifted flour and baking powder for approximately 2 minutes till well combined.
6) Spread half of the flour mixture onto the tray, dot with half the cream cheese mixture and scatter with half of the apricots.
7) Repeat with the balance flour mixture, cream cheese and top with the balance apricots.
8) Bake for 30-35 minutes in the centre of the oven till just firm to the touch. The cream cheese ripple will firm up further when cool, so do not overbake.