My brother bought this Kitchen Aid bundt pan for me quite a while back and, like the few other baking pans which he bought back from the US, they have yet to be used.
So yesterday, I googled for a Bundt recipe and I came across this 7-Up Bundt Cake which sounded very interesting and pardon the pun, refreshing too. All the reviews for this cake were good except some said it was sweet.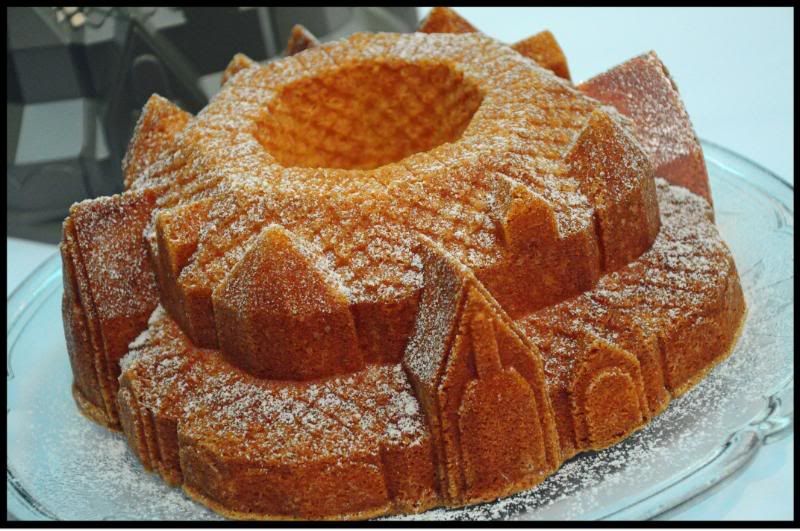 I made some adjustments to the sugar and also used a combination of plain flour and cake flour for this recipe. I also added lemon zest and some lemon juice abeit insufficient, to perk up the lemon-lime flavor of the 7-Up.
Even though the pan is non-stick, I gave it a good coat of baker's grease as I want to be sure the cake can be removed without any problem. Sticking is an inherent problem with Bundt cake pans due to the intricate designs.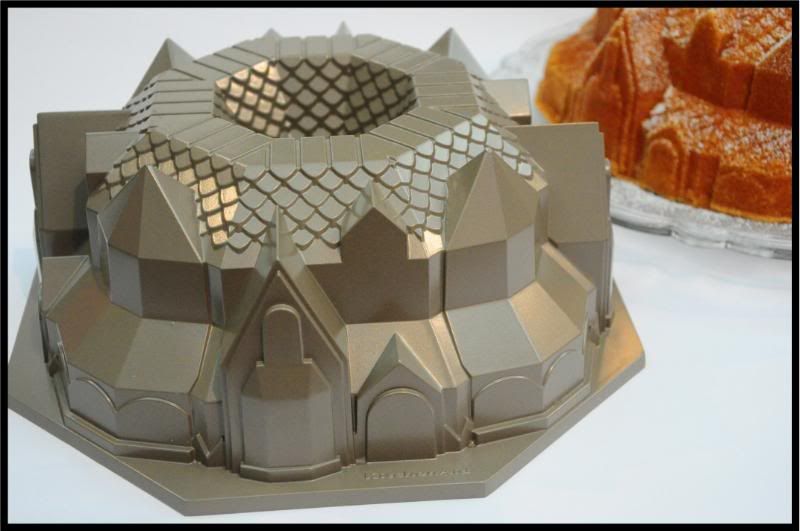 The cake was very soft and with tender crumbs. However, despite reducing the sugar, it still tasted sweet to me. The taste of 7-Up is not very apparent in the baked cake although you can still taste it faintly.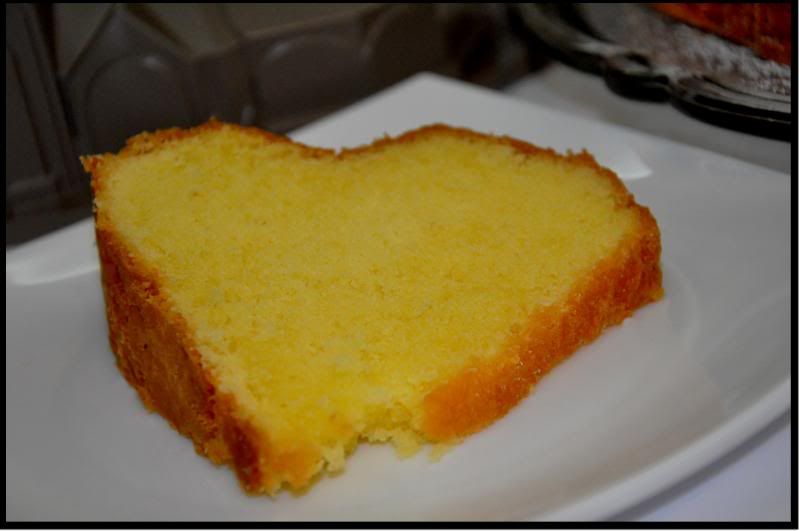 I will bake this cake again some other time however the sugar must be reduced further and more lemon juice added.
I am glad I did not make the icing sugar glace to drizzle over the cake otherwise the cake would taste even sweeter. I cannot however, resist the temptation of sifting a wee bit of snow sugar over the cake though.
7-UP BUNDT CAKE
(13 cup capacity bundt pan)Ingredients:
425g butter
690g sugar
6-1/4 eggs
350g plain flour
120g cake flour
1 tsp baking powder
2 tsp lemon essence (or 1 tsp each of lemon and vanilla essence)
225ml 7-up
Juice from 1/2 a lemon
Zest from 1 lemon
Method:
1) Preheat oven to 165 degree C.
2) Grease Bundt pan very well making sure all the nooks and crannies are greased.
3) Cream butter and sugar till light and fluffy.
4) Add eggs, one at a time beating well after each addition.
5) Add the 7-Up to the lemon juice to make up 225ml, then add in the essence and zest.
6) Fold in the sifted flour alternating with the 7-Up to the creamed mixture.
7) Spoon mixture into the prepared pan and bake for 60-75 minutes.
8) Skewer test near the centre of the cake. Cake is ready when no crumbs stick to the skewer.
Baker's Grease:
Mix equare ratio of shortening, flour and vegetable oil into a smooth paste. Use this to grease the Bundt pan. Balance grease can be stored in an airtight container for future use.