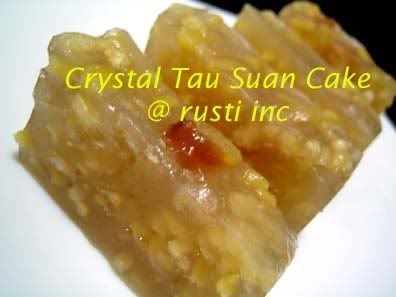 A piping hot bowl of Tau Suan (mung bean) dessert with You Tiao (cruellers) on a rainy day warms the body.
But how about a slice of chilled Crystal Tau Suan Cake on a hot sunny day. The quivering jelly-like texture of this cake cools as it glides down your throat.
I had on Saturday, bought a slice of this Tau Suan Cake from a stall located at the Amoy Street hawker centre. Liking it so much, I had a go at it making a tray for myself today. I adapted a waterchestnut cake recipe and used cooked mung beans to replace the chopped waterchestnuts. Although the piece which I bought did not have
you tiao
(cruellers) in it, I decided to add some myself. With the addition of cruellers, the cake tasted so much more like a bowl of Tau Suan.
CRYSTAL TAU SUAN CAKE
Ingredients
100g mung beans, soaked for 1/2 an hour and steamed till cooked
½ piece crueller, cut into small pieces.
120g waterchestnut flour
1 tbsp tapioca starch
1 cup water
200g sugar
2 blades pandan leaves
2-3/4 cups water
Method:
1) Mix the waterchestnut flour, tapioca starch with the 1 cup of water. Strain to remove all lumps.
2) Boil the 2-3/4 cups water, pandan leaves and sugar till the sugar is dissolved and the syrup is fragrant.
3) Measure out 2-1/2 cups of the syrup or make up with more water till you have 2-1/2 cups.
4) Add the steamed beans to the syrup, stir in the water chestnut starch.
5) Boil over small flame and stir non stop till mixture is translucent making sure the mixture does not get burnt.
6) Switch off the flame and stir in the crullers bits.
7) Pour into a greased 7" square tin and steam for 20 minutes.
8) Cool thoroughly before cutting with a lightly greased knife.
9) Chill in an airtight box to prevent the cakes from drying out.