How time flies! In a wink of an eye, it has been 30 years since we graduated from Fairfield Methodist Girls School.
The Class of 77 Reunion tea party was mooted as a result of invitations to attend an Alumni Dinner in celebration of our school's 119 Founder's Day in August. As I know I will be busy during that period, I suggested for some of the girls to come over to my house for a gathering instead. It was quite tough rounding up the old girls as many of us have not been in contact since graduation. I must thanks Angeline (Yuet Yong) for making contact with some of the girls whom I have not met since 1977. We did managed to contact quite a number of them but due to work, prior personal commitments etc, some of them could not attend.
Anyway I am really happy for those who turned up. Thanks Angeline, Carolyne (Cheng Sim), Gina (Chay-Ling), Isabelle, Jenny (Wei Tin), Lay Khim, Linda (Lai Chan), Mary (Mui Eng)and Prudence (Mun Yee) for making the party a success. I truly enjoyed catching up with all you. It was really fun talking about the good ole days, the pranks and 'bullying' we did to each other and how some of us literally 'sucked the blood dry' of our Maths teacher Ms Lau.
Since we graduated, our school had gone through numerous changes. In 1983, the school was relocated to her present site in Dover Road from Neil Road, and in the same year, FMGS broke away from a 94-year tradition, it was the first Methodist School in Singapore to go co-educational.
We Fairsians are proud of our
119-year heritage
and we are indeed grateful for the fantastic allround education we received from our teachers who are so dedicated in their profession.
And how could we forget the
Fairfield School Song
it has such meaningful lyrics and an upbeat tempo. Here is the final chorus:
(

Note:

the original lyrics of the school song has been changed slightly in 1983 to reflect the co-ed status):
Here's to Fairfield, to Fairfield
To every student here
To every happy Fairsian
And to every teacher dear.
Oh! It's Fairfield, at Fairfield
Where all our hearts are light
Where love is in the sunshine
And all the world is bright.
Let's make time for a gathering again and the next time round, lets pray for more girls to join us in reminiscing the good old times.
Yearbook from our graduating year, ELDDS performance and class outng pictures.
The centrepiece, Class of 77 Tirimisu Cake. This is our original FMGS school badge. It has since been changed to FMSS. The badge, school uniform and letters are made from a combination of sugarpaste and marshmallow fondant.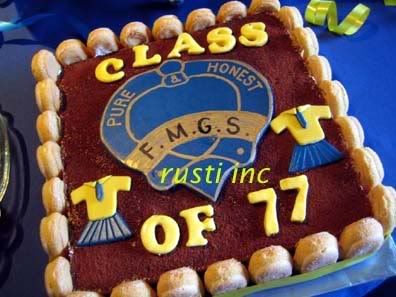 Whipped up all these food myself. Hey, I was not a distinction Home Economics student for nothing you know! I have Ms Viswalingam to thank for this. Issuing her instructions in a military-style way, she taught us all we need to know about whisking, folding, creaming and baking. She was so strict with us that none of us dare as much as to whimper during her lessons. Those were the days when we had to manually beat in teaspoon full of eggs into our choux pastry till our palms developed blisters.
Class of 77 Tirimisu, Baileys Cheesecake, Strawberry Buttermilk Cake, Mango Mousse Cake, Fudgy Chocolate Blueberry Cake, Durian Swissrolls, Cupcakes with Creamcheese Frosting, Almond & Cranberry Chocolate Clusters, Chicken Curry, Fried Vermicelli & Chilled Cucumber Pork Rolls. The steamed Glutinous Rice is compliments of my mother-in-law.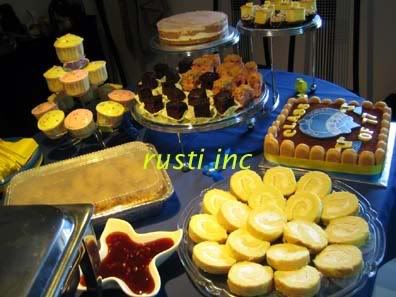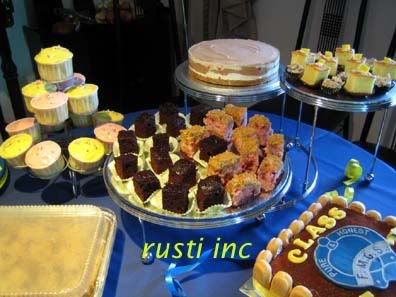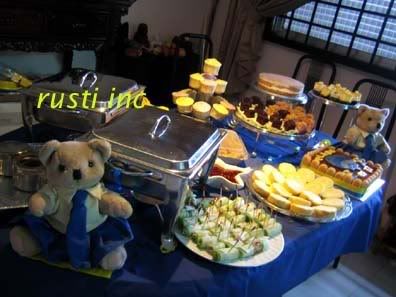 One for the album, group photos (yours truly in the brown top)