I was reading the Sunday Times today and came across an article titled
Doughnut or Puff? Just chew on it.
The article is about a new food fad called Chewy Junior. According to the reporter, "the pastries look like doughnuts without holes and are filled with cream inside......but unlike cream puffs and doughnuts, these baked foods have a pleasantly chewy dough". Hmmm this sounded like just what I have made on Saturday afternoon. I cannot confirm this fact as I have not tasted the CJs but my guess is that these are none other than Baked Mochi.
I had purchased two packets of this mochi premix from Taipei a month ago. I had the Mochi Bread (as this is what it is called on the label) baked in muffin cups. Some were filled with redbean paste before baking and others had custard 'pumped' into the hollowed centres after baking. They were crispy on the outsides and chewy on the insides.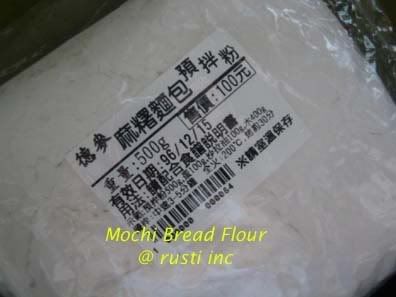 The CJs sold at the shop came in various toppings:- strawberry dream, oreo chocolate crunch, coffee muesli crunch. These offerings surely gave me an idea what to do with the 2nd packet of mochi premix that is sitting in the larder.