The first, a Carrot Cake with Cream Cheese Frosting, was made specially for Leana who loaned me her winter coat recently.
The cake was to be decorated with walnut halves and miniature sugarpaste carrots which I made the previous evening. The sugarpaste carrots were added just before photo-taking. As I was taking the photo, I noticed that they started to slide down the cream cheese frosting, leaving behind a trial of unsightly green and orange.
I had no choice but to do some quick rescue work. I removed the carrots, scrapped out the stained portion of frosting, and then patched up the holes with whatever frostings I could scrap out of the mixing bowl. It was fortunate that I have some leftover roasted walnut halves and in the end, I had to use them to hide the repaired area.
Lesson learnt ~ sugarpaste are not buddies with cream cheese (oily?). Next time, use marzipan carrots instead!
Here is the Carrot Cake with the original design:
After the rescue work:
The carrots that never got to see the day!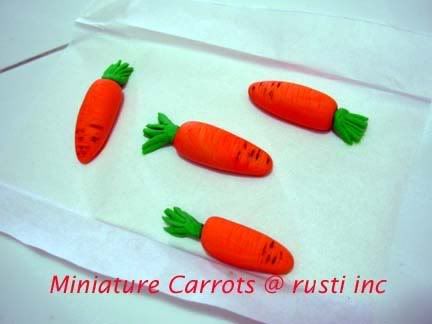 The second cake which I baked was a Butter Cake that was studded with canned logans and dried logans. The two contrasting texture of logan makes for a very interesting cake. The canned logans were crunchy and juicy, while the reconstituted dried logans were soft and chewy. I will definitely bake this again as it is a nice departure from the usual raisin butter cake.