This was lunch on Sunday.
Saute Cabbage with Black Fungus.
Sambal Tumis Prawns
Deep Fried Beancurd with Okonomiyaki Dip
And a Chinese Roast Pork that only meets 70% of my expectation.
While preparing the belly pork, I knew immediately that I would not get a good crackling on the roast. The skin was extremely tough and it took a lot of effort to prick the surface when usually, it would be a breeze to do so. Normally, it would be very easy to prick the skin all over with the special 'skin piercer'. This time, I had a hard time pushing the nails of the piercer in. There were just too much resistance. As expected, I did not manage to get the skin as crispy as I would normally be able to achieve.
Piercing the skin after salting the meat.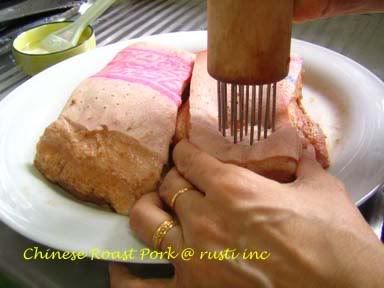 Vinegar is applied to the skin and left to dry. This process is repeated 4-5 times to soften the skin.
To get a good crackling, a thick coat of coarse salt is piled onto the skin.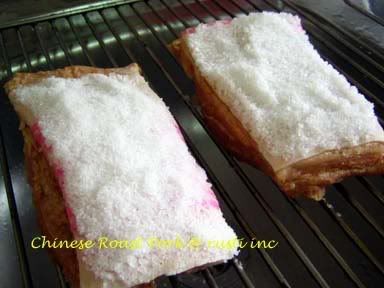 After 10 minutes of roasting, the salt would harden and form a crust that must be removed.
The pork is left to roast till the skin bubbles and meat is cooked through.