Phew! The office move went smoothly without a hitch and am I glad it is finally completed. I can now heave a sigh of relief.
My thanks especially to Andy who ensured that our computers are up and running so that operationally, there was no downtime. Thanks too to Hui Ni. She was a tremendous help to us, coordinating the move at this end. So it was literally, all systems go the moment the final carton was unpacked and it's contents stored away.
It has been a week now since we moved in and I have settled in comfortably and made many new friends at the office. Everyone is friendly and had been immensely helpful to orientate us around the various departments.
I was making my daily fix of coffee the second morning when I was invited to try a dessert made by Amy. Although I have made many different types of desserts, I have not made one with the milk of the Chinese Almonds. Amy taught me how to make this delicious Snow Fungus with Almond Milk. Chinese Almonds are known to ease coughs and reduce phlegms. Learning how to make his dessert is a blessing. Thanks Amy. It could not have come at a better time than now as everyone at home is nursing a cough.
Chinese Almonds are actually not almonds but apricot kernels. There are two types, Pak Hng (北杏)Northern Almonds which is bitter and slightly toxic if eaten raw, and Nam Hng (南杏)Southern Almonds which is sweet. The almond milk is extracted by liquidising them with water and added to snow fungus, fresh ginko nuts and barleys. This is indeed a smooth and fragrant dessert and is best enjoyed warm.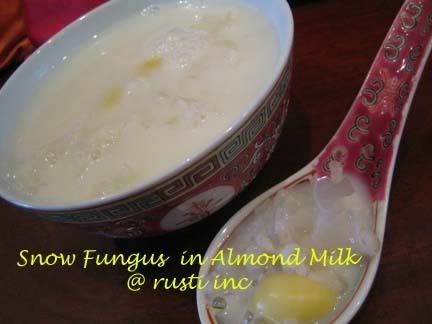 Midweek evening, I decided to bake a simple Pistachio-Mint Chocolate Cake for my new colleagues to express my thanks for the warm welcome received. Pistachio paste was added to the mint portion to give it a subtle nutty flavor. Nothing fancy, each piece is topped with a chocolate fudge rosette and sugar flower. I hope they have enjoyed it as much as I have enjoyed baking it for them.