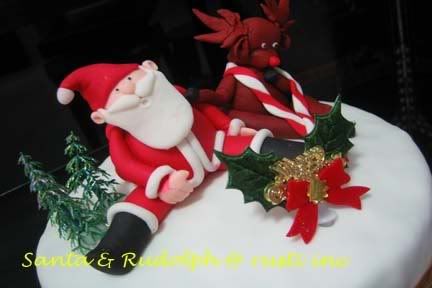 Merry Christmas Folks! Ho! Ho! Ho! Greetings from Santa and Rudolph.
The year had zoomed past so quickly and it is Christmas again. My extended family had the usual Christmas bash at my brother's house. This year, instead of having it potluck style, we had the food catered. I also took a 'sabbatical' from roasting the turkey this year and instead, ordered one from the supermarket. I say 'sabattical' because I have been appointed as the official turkey roaster for the family and have been the one roasting the turkey for the past 6-7 years!
Knowing that I will have some free time pre-party, I had planned in advanced to decorate a Christmas fruitcake. In fact, I had baked three fruitcakes ~ two 6" in size and one 9" in size. The mixed fruits were soaked in orange juice and rum well ahead of time and the cakes were baked at the end of November. I had faithfully stippled the cakes twice a week with Grand Marnier to keep them nice and moist.
You can see the 'bumps' on the surface as I did not 'seal' cakes with marzipan as is usually done. I merely covered cakes with Marshmallow Fondant directly.
The two smaller cakes are simply decorated with some store-bought figurines and were given away to the family of my children's
significant other
.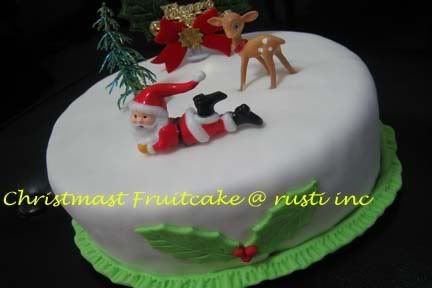 For the 9" cake, I had handmade the Santa and Rudolph figurines with sugarpaste. It was such fun seeing jolly Santa take shape. The biggest challenge was to get the heads of Santa and Rudolph to stay in place. Even with a toothpick embedded, they still flopped somewhat because they would not dry fast enough due to the wet weather. The antlers were another problem too as they refused to stay on Rudolph's head.
Overall, I was pretty satisfied with the end results as this is the first time that I have shaped figurines entirely with my own hands.