At the request of my daughter's colleague, I attempted to 'write' a recipe for my Shepherd's Pie. I usually just make them based on 'feelings' ~ a little bit of this, a dash of that. So Vanessa, here is the Shepherd's Pie recipe to the best of my abilities:
My Shepherd's PieIngredients:
1.3 kg russet burbank potatoes
1 can Campbell's Condensed Soup - Cream of Mushroom or Chicken
50gm butter
1/4 tsp salt
1/2 tsp white pepper
Boil potatoes till soft, mash and add the soup, butter salt and white pepper. Mix well, cover and set aside
500gm minced meat
270gm chopped large white onions
2 garlics - chopped
150gm mixed frozen vegetables
1/2 tsp black pepper
1/4 tsp white pepper
2 tsp dark soya sauce
2 tsp Marmite
1 tsp light soya sauce
Pinch of salt
3 tbsp olive oil
150ml water
1 tbsp cornflour mixed with 2 tbps water.
Method:
1) Heat 1 tbsp of oil, 1/3 of the chopped garlics and saute the frozen vegetables for 2 minutes. Dish up and set aside.
2) Heat the remainder oil and saute the garlics and white onions till fragrant. Add the minced meat and keep stirring to loosen the meat.
3) When the meat is cooked, add the mixed vegetables, seasoning ingredients and water. Stir fry for a while, adjust seasoning and thicken with the cornflour mixture. Dish up and set aside.
4) Scoop meat into a heat-proof casserole or inividual size loaf pan. Top with the mashed potatoes.
5) Roughen the potatoes with a fork, dot with butter and bake at 180 degree C for 20-30 minutes (depending on the size of your tray) till top is slightly brown.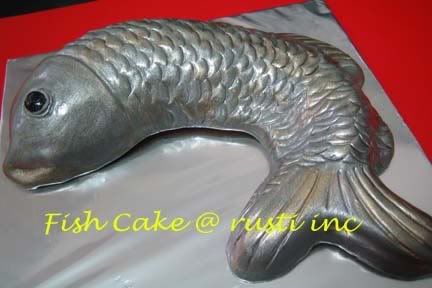 As this Sunday was my dad's death anniversary, we had a memorial session for him at my brother's home. Dad was an avid angler. In memory of him, I made a fish-shaped buttercake and covered it with Marshmallow Fondant. The whole fish is then painted with a mixture of silver, gold and pearl luster dust. I had also made a fish rod and hooks out of sugarpaste to go with the fish. Unfortunately, due to the wet weather, the rod and hook did not dry on time and the rod actually broke into three parts. In the end, I 'told' my dad: "Sorry old guy, no fishing for you today. Just a steamed fish for you".