This is one of my favorite chocolate cake. It is a cinch to make. No mixer is required and once all the ingredients are measured, it takes just a stir with a hand whisk and the cake is ready to be baked in two minutes flat.
What I love about this chocolate cake is that it is very soft and moist although no egg or butter is used. The secret to the softness and moistness comes from the mayonnaise and buttermilk. It may sound gross as you will hardly associate mayo with cakes but this is truly one cake which you have to try to believe how wonderfully the ingredients meld together to give you a chocolate cake with a difference.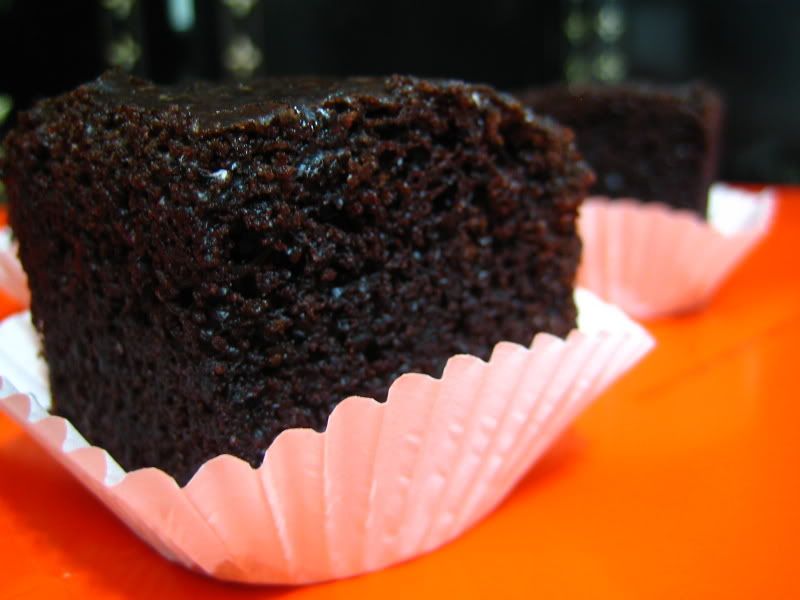 For a more luxurious treat, frost the cake with a chocolate ganache.
MAYONNAISE CHOCOLATE CAKE
Ingredients:
110g mayonnaise
125ml buttermilk
1 tsp vanilla essence
120g all-purpose plain flour
20g cocoa powder
1-1/2 tsp bicarbonate soda
110g sugar
Method:
1) Line a 7" square baking tin with parchment paper (no need to grease).
2) Sift flour, cocoa and bicarbonate soda together.
3) Place the sugar and sifted flour mixture into a bowl.
4) In a separate bowl, mix the mayo, vanilla essence and buttermilk till smooth.
5) Add mayo mixture to the flour and mix till the batter is smooth.
6) Pour mixture into prepared pan and bake at 170 deg C for 20-25 minutes.
Note
:
a) If you have no buttermilk, you can add 1-1/2 tsp of lemon juice to a glass of milk to make up to 125ml.
b) For a taller cake, make 1.5 times the recipe above and bake 40 minutes.