Stealing a line from the popular prose, I thought I had better post some of those photos which I have saved in my temporary folder since December 2007. I was really busy during that period and could not find the time to post up the pixs. So here goes..
But first, let me do the New.
Steamed Honey Cake
I just love the slightly chewy texture and the honeycomb structure. This Honey Cake or Ma Lai Koh is different from the usual Ma Lai Koh in that the batter has to go through two stages of proofing totalling more than 17 hours prior to steaming. I suppose that is why this cake has the lovely vertical tunnels versus the conventional type which is more like a dense sponge cake.
Ingredients:
(Adapted from Traditional Koh Kuih, Lap Mei & Cookies, Y3K Publications, Malaysia)
(A)
150g low protein flour or Lily flour
150ml water
1-1/2 tsp instant yeast
(B)
200g castor sugar
1 tbsp honey
1/4 tsp salt
(C)
7 eggs
60g low protein flour
50ml corn oil
(D)
1 tsp baking powder
1 tsp bicarbonate soda
2 tsps water
1/8 tsp alkaline water
Method:
1) Mix ingredients (A) in a big mixing bowl. Cover with cling wrap and proof for four to six hours.
2) Transfer mixture to a mixing bowl and add in ingredients (B) and beat till sugar is dissolved. Add in the eggs and beat well. Add in the remaining ingredients (C) and continue to beat well. Strain mixture into a basin and proof a second time for 10 to 12 hours.
3) Prepare an 8" bamboo steaming basket by lining with two layers of cellophane paper and securing it firmly with twine.
4) Mix baking powder, baking soda and water from (D) together. Mix it into the proofed batter. Add alkaline water, mix well.
5) Pour into the steaming basket and steam over high heat for 30-35 minutes. Cake is done when skewer inserted comes out clean.
Lemon Cream Cheese Cupcakes
Thank you Jenny for sharing the lovely, yummilicious recipe with me. I have made these cuppies thrice and each time, I get rave reviews from friends, relatives and colleagues who just can't get enough of these soft and lemony morsels topped with a tangy lemon frosting. Two variants here, with Chopped Walnuts and with Dessicated Coconut.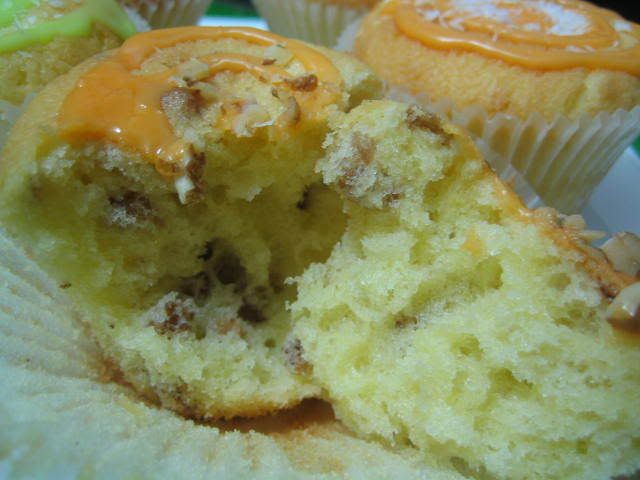 Now for Something Old ~ Circa December 2007 and February 2008.
Mini loaves of brandy infused
Christmas Fruitcakes
for giving away to friends. This is my favorite fruitcake recipe from the Australian Women's Weekly. It is really more fruit than cake and is not overly sweet as I reduced those sickenly sweet glaced cherries, mixed peels and increased the more acidic fruits like sour cherries, cranberries and apricots.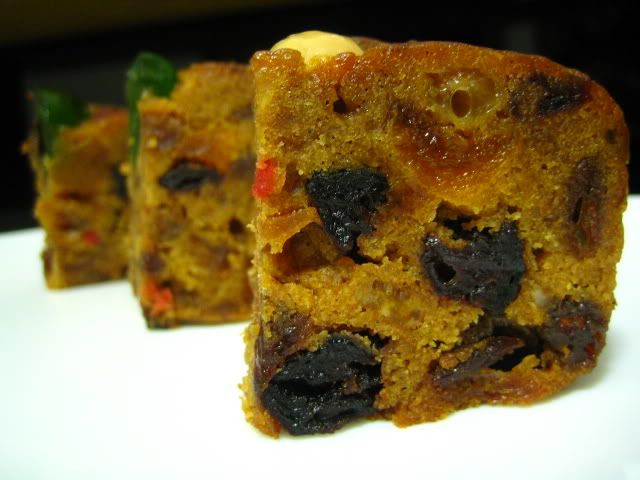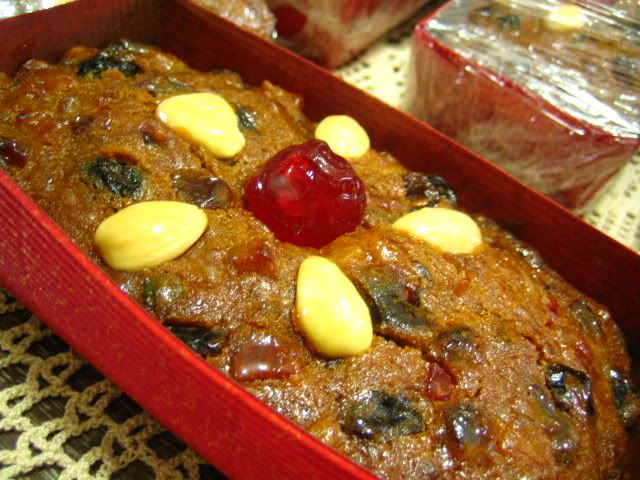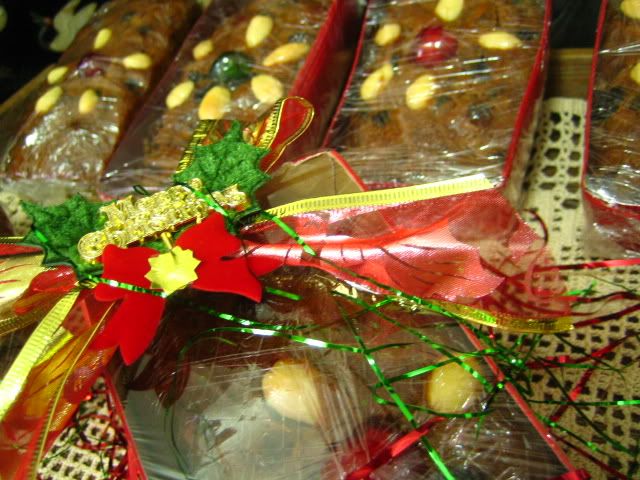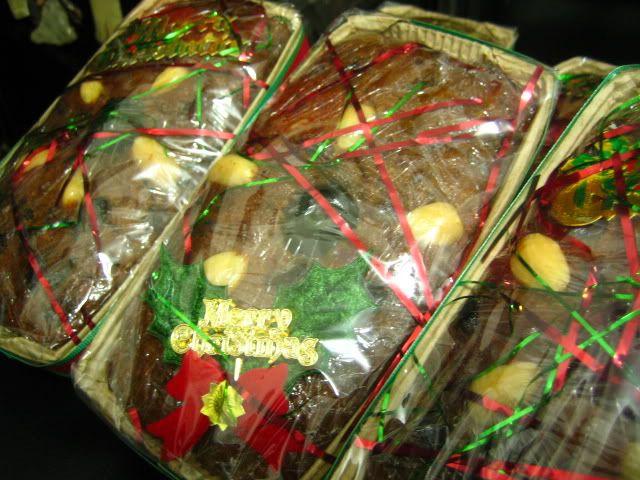 For the Chinese New Year, I gave the Koi Fish Nian Gao (Sweetcakes) a miss and made some auspcious
Gold Ingot Sweetcakes
instead. It was really a tough act trying to balance the pointy ends of the plastic moulds during the steaming process without toppling them over.
The Ingots, with the moulds removed and ready to be served.
The rest of the Ingots were packed (with their plastic moulds) into traditional wooden boxes as gifts for relatives during the rounds of Chinese New Year visitation.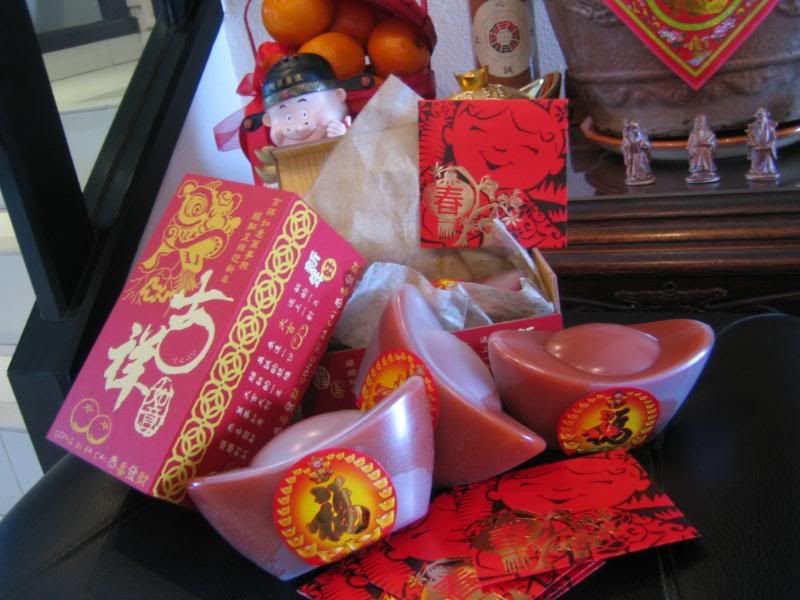 Oh and I did managed to bake some cookies and made some
Fried Spicy Peanuts
too.
Buttery melt-in-the-mouth
Belinjau Cookies
. They are both good and bad at the same time. Good because you just cannot stop at one. Bad because, with each piece you pop into your mouth, you are mentally totalling up the additional calories and promising yourself 'this will be the last piece'.
The shelled and skinless peanuts are marinated in a five-spice and red fermented beancurd mixture and then deep fried to a golden brown. The crispy crunchy nuts are definitely a good accompliment to a mug of ice cold beer!