I have been MIA for the past month and I thank my supporters for emailing to check what is happening. I have been kept rather busy at work and have been working late quite frequently too. So by the time I reached home, I want nothing more than to slump myself on the sofa.
Anyway, I was away in Shanghai for a few days in late January for some company training and my Shanghai colleagues hosted me to a most wonderful dinner at the Xiao Nan Kuo, which is located just next to the Pearl Tower. Business in the restaurant was very brisk but the service staff were still attentive and quick to respond. I really enjoyed every single dish served and I was particulary intrigued by the Glutinuous Rice Stuffed Lotus Root. Coincidentally, just a couple of days before leaving for Shanghai,I saw this recipe while browsing through a cookbook at a bookstore and I remembered asking myself then how would this dish taste? I never imagine that it would taste so good. The lotus root has been boiled long enough to be soft while still retaining it's bite and the starchy glutinous rice gave it a nice contrast. Drenched with a sweet syrup flavored with Osmanthus, it was really an awesome combination. Strangely, instead of being served as a dessert, it was served as part of several appetisers that included Duck's Tongue, Drunken Chicken, Braised Tofu with Peanuts and preggy Fried Fish which is different from the Japanese Shishamo.
(Opps pardon me! I had completely forgotten to adjust the camera to suit the indoor lighting condition and my first few photos turned out with a yellow tinge)
Duck's Tongue, Braised Tofu with Peanuts, Fried Fish, Drunken Chicken
Some of the other dishes served following the appetisers:
Fried River Shrimps, Tofu with Roe of Hairy Crab, Saute Beef Slices
Sweet Sour Squirrel Fish, Fresh & Preserved Pork Soup with Bamboo Shoot, Grandmother's Braised Belly Pork
Minced Vegetables with Bamboo Shoots, Spring Onion Pancakes, Red Bean Puree with Glutinuous Riceballs
I also had the chance to try some streetside food:
Xiao Long Bao, Shanghai Meen Chang Kueh with Crispy Sugar Crust, Assorted Sweet Cakes & Ba Bao Rice.
How about a bowl of steaming hot Ba Bao Porridge for about S$0.20?
By the way, I liked the lotus root so much that I recreated this dish when I got back to Singapore.
(L)The one which I made, (R) The one served in the restaurant
The roots are stuffed with glutinuous rice.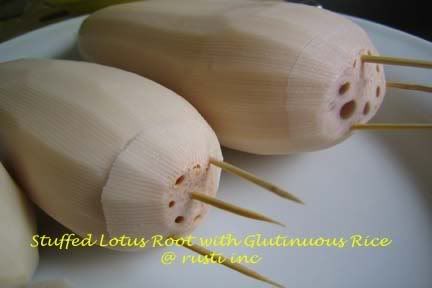 The "end caps" are secured with toothpicks to prevent the rice from dropping out during the boiling process.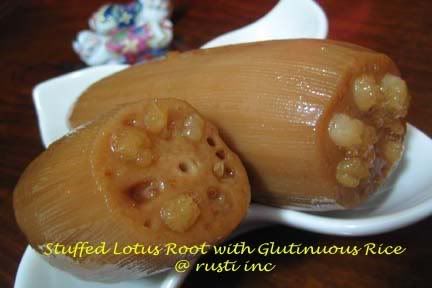 After boiling in syrup.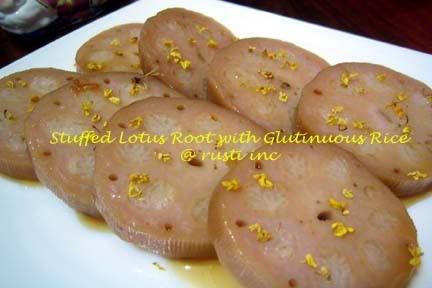 Chilled and sliced for serving.
Here's me, after a satisfying dinner, posing in front of the Pearl Tower.
Some of the goodies which I brought back from Shanghai: Duck's Tongue, Duck's Wing, Candied Hawthorn, Porkballs, Minature Candied Walnuts.....and when I saw the Yoghurt Flavored and Corn Flavored Rabbit Sweets, I could not resist the temptation.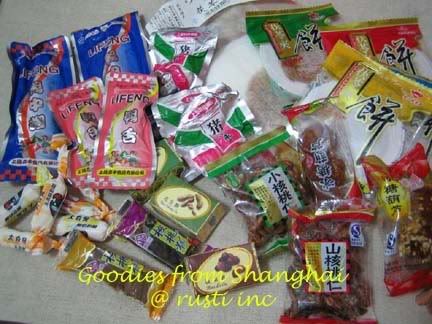 For the Chinese New Year, I did not managed to do any baking as I had to use whatever available time left to carry out the spring cleaning. However, I did managed to steam some nice Koi-shaped Sweet Glutinuous Cake (Nien Gao) as gifts for friends and relatives. I lost count of the number of fishes I have steamed. Perhaps a dozen?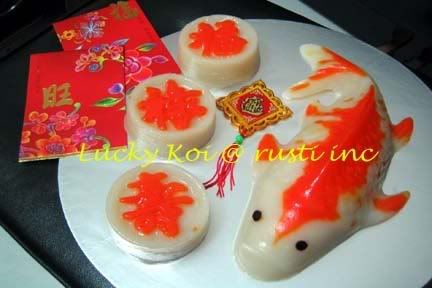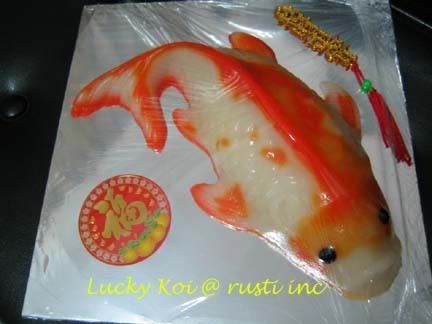 And for guests visiting during the new year, they were served pan-fried HongKong Style Radish Cakes.