If you have been visiting my blog you would have noticed that I have not been updating it as much as before.
Lately, my work has been keeping me very busy during the day and by the time I reached home, I am brain dead. I am still baking though, and I am still trying out new recipes about 2 or 3 times a week as this has always been my way of relieving stress. It is just that I have not been taking pictures of them or uploading them to the blog. Hopefully thing will return to normalcy for me and I can start to blog actively again.
Here is a roundup of some of the stuff that I have made the past week.
Special Chocolate Cake. This is one of my favorite no fail recipe taken from the Australian Women's Weekly and of which I have been using for years. It is easy to do, tastes rich and stays moist up to three days. I did not take a picture but it looks similar to the Cherry Chocolate Cake below minus the cherries.
Here is the recipe for my colleague Sharon who requested for it and for also for Annie from RH:
Special Chocolate Cake
Ingredients
:
500ml water
660gm caster sugar
35g cocoa powder
250g butter, chopped
1 tsp bicarbonate soda
450g self-raising flour
4 eggs, lightly beaten
Method:
1) Preheat oven to 175 degree C.
2) Grease a 10" x 13" cake tin and line base with baking paper.
3) Combine water, sugar, cocoa powder, bicarbonate soda and butter in a pot and heat without boiling till sugar is dissolved.
4) Increase heat and bring to a boil and then simmer uncovered for 5 minutes.
5) Transfer to mixing bowl and leave to cool till lukewarm.
6) Stir in sifted flour and eggs and beat till mixture is smooth.
7) Pour mixture into prepared pan and bake for about 50 minutes. Test for doneness by inserting a toothpick/skewer in the centre of the cake. Cake is done when no crumbs sticks to the skewer.
8) Cool in pan for 10 minutes before turning out onto wire rack to cool.
During the weekend, I tried a Steamed White Radish Cake taken from another blog. The ratio of radish versus rice flour/water initially scared me. I was apprehensive as to how the cake will turn out. Surprisingly, it was very good. It was robust, full of flavor and it tasted even better when lightly pan-fried. However, due to the large amount of white radish used, there was a tinge of bitterness in it. I made note on my recipe card that when making this cake again, I must squeeze out some of the radish juice to reduce the bitterness.
From the same blog, I tried a very innovative pseudo Tiramisu cake made from Cocoa Puff biscuits. You add cream, which have first been mixed with rum and vanilla essence, to the layers of cocoa puff biscuits. Then you top with more cream, some cocktail fruits and set the top with jelly.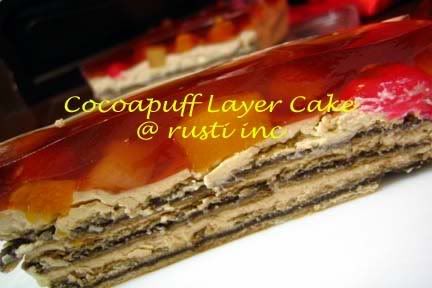 The original recipe calls for Alsa Gulaman, a quick setting crystal jelly popular in the Philippines. I supposed I could find this at Lucky Plaza which is a haven for Filipino food products but I was too impatient to wait till my next trip into town. Since I do not have this on hand, I had substituted it with instant jelly dissolved in cranberry juice. It tasted real good. The biscuits have soften to a stage that it tasted like a rum soaked sponge and because I have added some Cheesecake candy oil to the cream, I feel as though I am biting into a cream cheese concoction..
This last cake, a Cherry Chocolate Cake is a bonus because I have been begging this lady for the recipe for the longest time. She had refused to impart the recipe to me and preferring to make me one each time she visits. However I think my patience paid off after all these years of nagging and bugging her. She finally relented but not without making me promise not to share the recipe. I just love the moist and chocolately flavor of the cake and juiciness that comes from the cherries. Yum!