What a great time I had on Sunday!
It was a day of getting to know the members of Imperial Kitchen (IK), a newly set up food forum.
It was really like Christening ceremony as IK is just over a month old and Lucy, an IK member, made the perfect cake for the occasion.
Chocolate Cake made by Lucy (Yochana)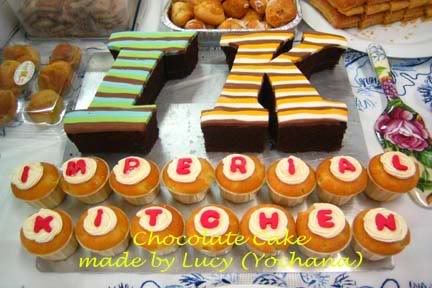 There were easily 30 of us gathered over Lucy's humongous kitchen table which was laden with a good spread of food contributed by the members. We had Green Tea Cheesecake, Chestnut Mousse Cake, Kueh Lapis, Tri-colored Swissroll, Jellies, Cream Puffs, Durian Puffs, Tiramisu, Brownies (wait....let me catch my breath)...Mango Strudel, Curry Puffs, Banana Chocolate Muffins, Iced Vanilla Cupcakes, Fried Chicken Wings, WaterChestnut Dessert, Black Glutinuous Rice Dessert, Walnut Raisin Cake......(another deep breath needed)....Vietnamese Springrolls, Quickbread, Cinnamon Rolls, Lemon Rolls, Nonya Cakes, Otah, Tao Suan, Chicken-Corn Patties......am I missing anything?
Food, Glorius Food (photos reproduced by kind permission of Jo-Karlskrona)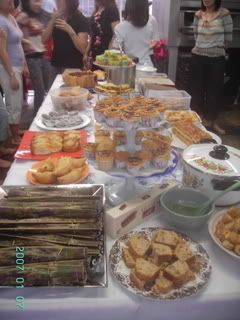 My contribution was the Japanese Style Chinese Salad Rolls. Japanese Style because the recipe uses Japanese Vermicelli (tang hoon) which is thicker than the Chinese tang hoon and 'Japanese' Sichuan Bean Paste to fry the minced meat. To eat this, you take a piece of lettuce leaf, pile it up with vermicelli, minced meat and assorted vegetable sticks & honey-baked ham, then roll up or fold over the edges of the leaf to enclose the fillings into a roll.
I am sharing the recipe here at the request of some of the members.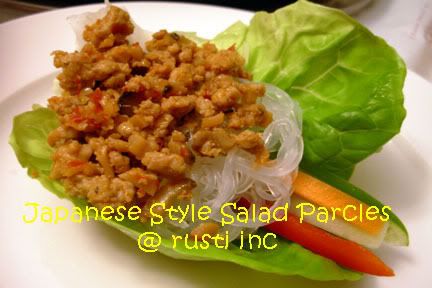 Chinese Salad Rolls (Japanese Style)
Ingredients:
300g minced pork or chicken
3 tbsp chopped canned bamboo shoots
6 Chinese mushrooms, soaked overnight, chopped finely
1 medium sized large onion, chopped
1 small pieces ginger, chopped (about 1 tsp)
12 tbsp water
5 - 6 tsp sugar
6 tsp Hua Tiao wine
3-4 tbsp
Japaneses
Sichuan dou pan jian (spicy beanpaste - Youki brand)
4-6 tbsp light soya sauce (more or less depending how salty your soya sauce is)
12 tbsp water
2 cloves garlic, chopped
Oil
Method:
1) Heat wok and put in 1 tsp of oil and saute mushrooms till fragrant, dish up and set aside.
2) Reheat wok and put in tsp of oil and saute bamboo shoots for a few minutes, dish up and set aside.
3) Reheat wok, add 2-3 tbsp oil and fry garlics, onions and ginger till fragrant.
4) Add meat and stir fry continuously to break up the meat. Add the mushrooms & bamboo shoots.
5) Add the beanpaste, followed by the rest of the seasoning ingredients and water and cook till meat is cooked and the water has been absorbed.
6) Dish up and set aside to cool.
Accompliments:
Japanese cucumbers*
Carrots*
Celery
Red, Green or Yellow Capsicums
Chinese Lettuce or Butterhead Lettuce
Honeybaked ham or chicken ham
1 packet
Japanese
Vermicelli (Mitsukan brand) - boil in water till soften and soak in cold water. Strain well before using.
Cut vegetables & ham into thin sticks about 4cm in length and display on serving dish.
*Prepare a big bowl of water and add some sugar to it. Soak the cut carrots and cucumbers for about 10 minutes. This helps to make them crunchier.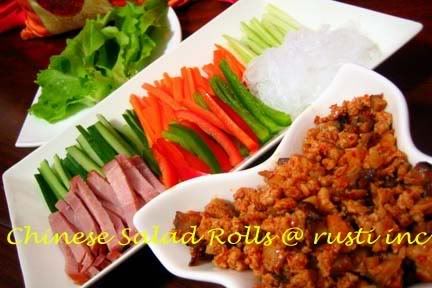 To Serve:
1) Wrap some meat and your choice of vegetables in the lettuce.
Note:
1) The Youki bean paste is not so beany in taste as the Chinese dou pan jiang and it does not have a raw chilli taste like some Chinese brands.
2) You can purchase both the bean paste and vermicelli from the Japanese section of Cold Storage.
Youki Sichuan Beanpaste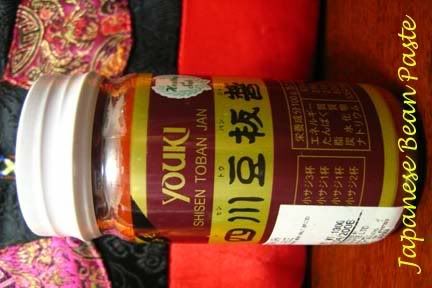 Mitsukan Vermicelli
3) If you are using minced pork, you may use less oil for frying as the meat will ooze oil by itself.