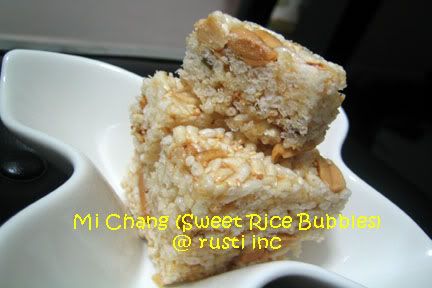 A couple of weeks back, DH, DD and I made a daytrip to Johor Bahru. As usual, my first stop would be the bakery ingredients/equipment shop. My usual haunt would be Ng Ming Huat which is situated just next to the Crystal Crown Hotel. However this trip, my 'target' is Bake Well Ingredients Centre. Amelia,(whom I got to know through Kitchencapers, a cooking forum)gave me the driving instructions to the shop which is located near the Larkin Stadium. Thanks Amelia.
The shop is chockful of baking ingredients & equipment (what else!), some of which cannot be found at NMH. I saw these bags of Rice Bubbles and immediately the thought of Mi-Chang, a snack not unlike the Western muesli bar, came to mind. This Asian snack is made by mixing rice bubbles, roasted groundnuts & white sesame into a thick maltose-based syrup and left to set before cutting into bars. So I grabbed a 500gm pack (@ RM7.50) to be added along to the shopping basket.
So here I was last evening making my first Mi-Chang. Here is the recipe:
Ingredients A:
1.5 litre water
700g sugar
1-1/2 tbsp maltose
1 tbsp lime juice (strained to remove pulp)
1/2 rice bowl(appx 125ml) cooking oil
1-2 tsp finely shredded lime zest (optional)
Ingredients B:
500g Puffed Rice Bubbles
300g dry roasted groundnuts (remove the brown skin)*
70g dry roasted white sesame seeds
Additional roasted white sesame seeds (optional)
Method:
1) Boil ingredients A over medium heat for about 30 minutes to reduce mixture to a thick syrup. The lime zest can be added towards the end of the boiling time. (Test syrup for readiness by dropping some into a bowl of tap water. If it solidifies immediately, then it is ready).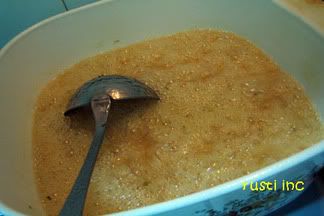 2) While the syrup is boiling, line two trays with aluminium foil and set aside.
3) Check that your rice bubbles are crispy. If they have gone soft and chewy (like mine did), dry roast them in a wok over a small-medium fire till they have crispen up again. Leave it in the wok to cool.
4) Toss ingredients B together.
5) When the syrup is ready, pour this into the rice bubble mixture and mix quickly till the syrup coats everything evenly.
Warning: The syrup is extremely hot.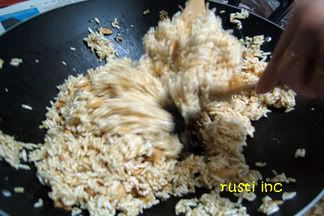 6) Spread the mixture in the prepared tins and sprinkle with the additional sesame seeds, compact the mixture with a rolling pin and/or a metal compacting presser.
7) Leave to cool and cut into squares before storing.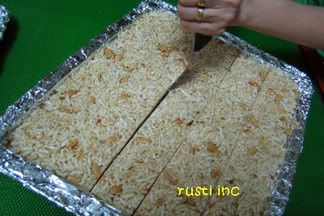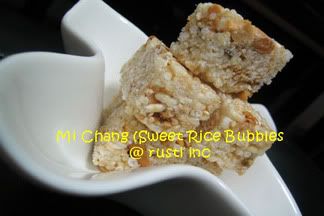 Note:
1) With the above proportions, I made two trays. A larger tray measuring 10" x 14" and a smaller tray measuring 9" x 11"
2) *If roasting the groundnuts is a hassle for you, then do it the 'quick & dirty' method. Buy ready roasted groundnuts. If they are salted, try and remove as much of the salt as possible. (I used double-layers of tissue paper and started 'grabbing' the nuts to absorb the excess oil and salt.)