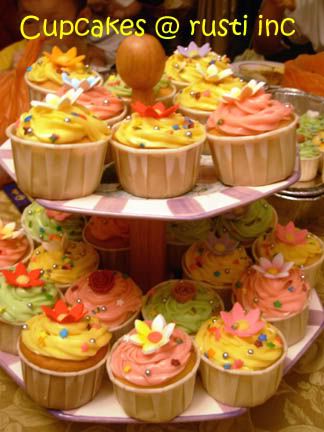 There has been a revival of iced cupcakes thanks to the televsion series
Sex And The City.
Sarah Jessica Parker was seen nibbling on an iced cupcake from the famed Manolia Bakery in New York. The rest as they say, is history.
Blog-hopping and from magazines, I found many dainty and pretty cupcakes that have been disguised in all manner of designs. From whimsical animals and clowns to fancy flower baskets and such. All very colorful and enticing indeed.
I too remember that as a kid, I had 'butterfly cupcakes'. This is a cupcake with a conical piece cut from the top and then sliced into two. The inverted cut pieces were then held in place by a dollop of rich buttercream to create the wings of the butterfly. The whole cupcake is then dusted with icing sugar. It was a luxury then to partake in this confection.
With the popularity of iced cupcakes popping up everywhere, I decided to make some myself a couple of weeks back. These are cupcakes flavored with lemon zest and orange blossom water and then topped with a zesty cream cheese icing. They were simply delish.