That was the subject heading of an email I received recently.
It was a mail from Joyee, a visitor to my blog. She had written to me previously to asked for tips on decorating a cake with sugarpaste as she wanted to make one for her son's year old birthday.
All I did was to share some of my past experience on how to give sugarpaste the ''tender loving care'' needed to give the cake a smooth finish.
She wrote to thank me for the tips and attached some photos of the beautiful cake she made. Joyee did a wonderful job of decorating a two tier cake with Anpanman figurines, insects and fencings. I tell you, for a first timer, she blew me away.
So appreciative is she that she had to send me 'Thank You' pressie. It was a pack of Basler Lackerli cookies which she had asked her husband to bring back for me from Switzerland. She had read from one of my earlier
posting
that I have not tasted the real cookie before and to quote from what she wrote on the gift card: "Here's a treat for you to show my appreciation". Wow! It is really a great treat. The cookie is really good. It is sweet, but not cloying sweet and it has the nicest citrusy flavor from the dried citron.
I just want to say to Joyee again, you are the one that made it happen, not me. You have a hidden talent which you are just discovering.
Okay now to the cookies. Hmmm...comparing what I have made to this, I would say I am pretty close to it in taste except mine was sweeter from the too thick sugar glazing ontop (a comment that was also given by my niece). It is addictive! For me, the chewiness just makes me want to eat one, two and then three cookie. Thank you Joyee.
Here is the Real McCoy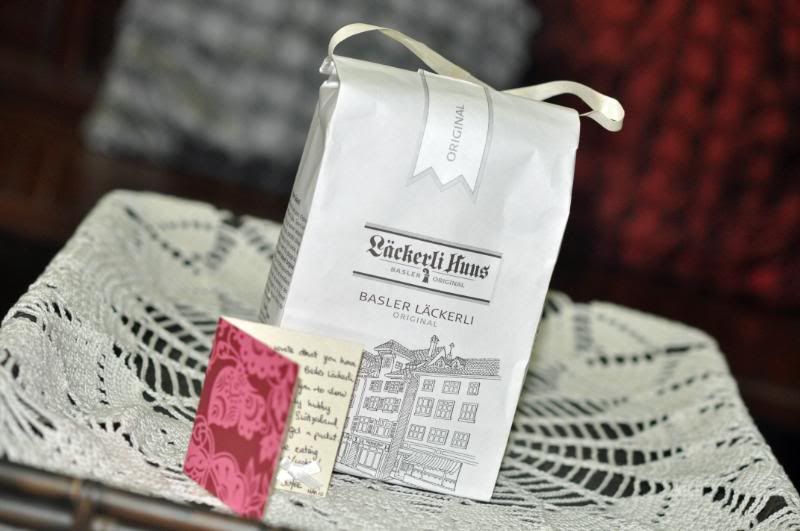 The cookie. You can see that the sugar glazing is much thinner than mine.