I return from dinner this evening feeling dead tired as I was nursing a slight flu and sorethroat.
A good sleep would do me good actually. Instead, I took out some recipe books and started flipping through them aimlessly until I came to this Yoghurt Apple Buttercake. Looks tempting enough except that I do not have any apples at home. The urge to bake this cake was strong. So inspite of the grogginess from the flu medication, I started to measure out the ingredients.
In place of the apples, I used diced dried mangoes which have been reconstituted in some hot water to soften them.
This is my version of Mango Yoghurt Buttercake.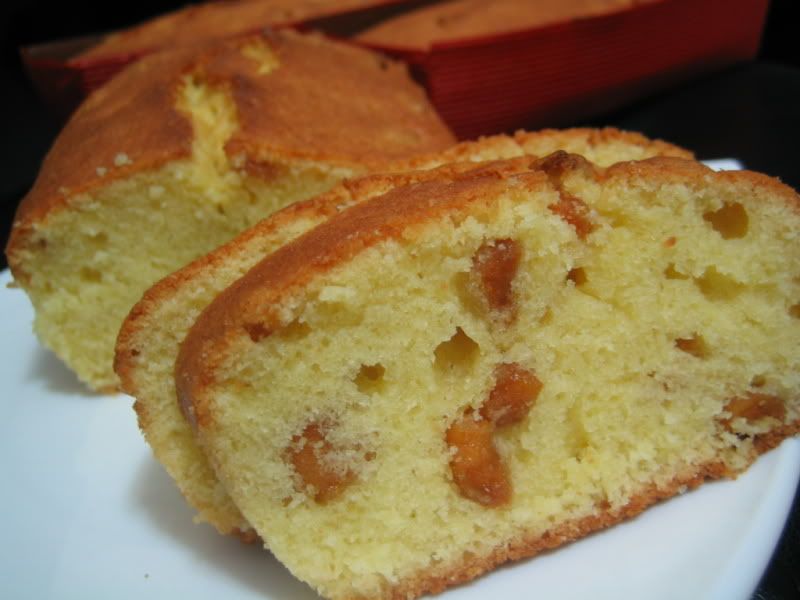 Ingredients:
100g dried mangoes,
250g butter
230g caster sugar
5 eggs
120ml yoghurt
315g flour
1 tsp baking powder
1/3tsp bicarbonate soda
1 tsp vanilla essence
Method:
1) Preheat oven to 175 degree C.
2) Dice the dried mangoes and reconstitute with 2 tbsp of very hot water to soften.
3) Sift flour, baking powder and bicarbonate soda together.
4) Cream the butter and sugar till fluffy.
5) Beat in the egg, one at a time, and cream till smooth and light.
6) Mis in the yoghurt and flour alternately and finally add in the mangoes.
7) Pour into a greased and lined 9" round tin and bake for 60 minutes or till a skewer inserted in the middle comes out clean.
8) Cool cake in tin for 10 minutes before removing to a rack to continue the cooling.
Note:
I baked mine in three disposable paper trays for 35 minutes.