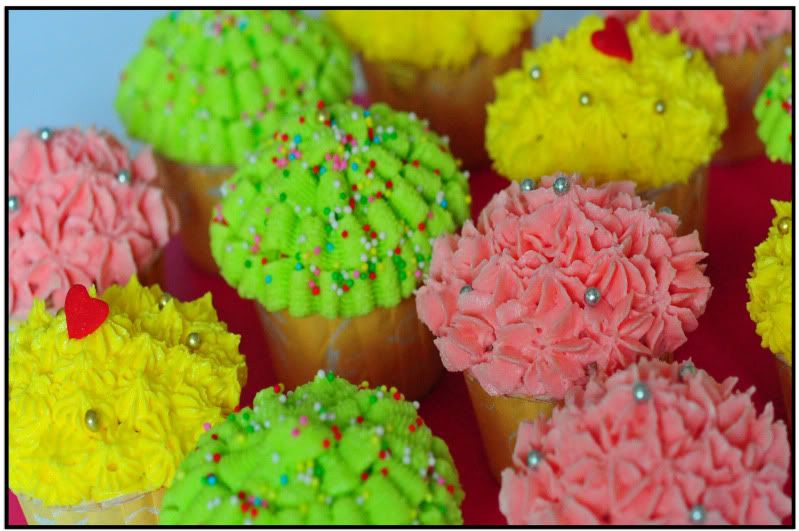 If you are expecting to see cupcakes in Small, Medium and Large sizes, then you have been mislead by my post title.
S-M-L here refers to the Strawberry, Mint and Lemon frostings atop the cupcakes.
I first came across the recipe for crusting buttercream about three years ago and about how you can achieve a real smooth frosted surface on a cake by using Viva paper towels. Being one with really shaky hands that can make cake decorating with any types of cream turn out looking like earthquakes, I never bothered to test out the crusting buttercream. Not until now.
Two Saturdays ago, I strolled into the basement of the Paragon Shopping Centre and spotted a popular deli there. Inside their refrigerated showcase, were some brightly frosted cupcakes that seems to be beckoning to me. The Lemon Cupcakes looked so darn pretty delicious that I had to buy one to satisfy my desires to bite into them.
It was love at first bite when I realized the frosting was a Crusting Buttercream. And so this is how it tasted! The exterior of the frosting has dried into something slightly softer then that of royal icing and it does not stick to your fingers when touched. Beyong the crusted surface, the insides are still soft. It was a much neater eating as you do not get cream sticking all over your lips. The cake though, was really nothing to shout about. DH and DS who had a bite each commented that my cupcakes tasted better. I should be pleased with the compliments but my focus then, was diverted to the frosting and not on the cake. I imagined how it would taste with different flavors added.
The following week, I had the chance to test out a batch of the Crusting Buttercream on some cupcakes for a family weekend gathering.
I flavored the frosting with strawberry syrup, mint essence and lemon paste. The results were good especially the mint and the strawberry. They crusted nicely and although it is made mostly with shortening (oh I can hear some gasps in the background), it tasted neither oily nor waxy. After the frosting has crusted, it was a breeze to handle the cupcakes. You know how fiddly it is to handle cupcakes that have been iced in regular frosting or creamcheese frosting. There is this tendency that the cream will get smudged!
Strawberry - Using Alteco #853 Deep Cut Closed Star Tip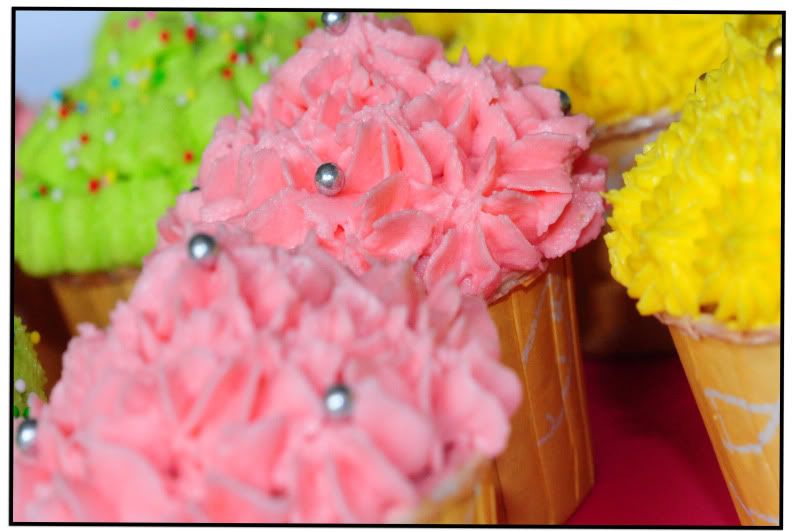 Mint - Using Wilton #48 Basketweave Tip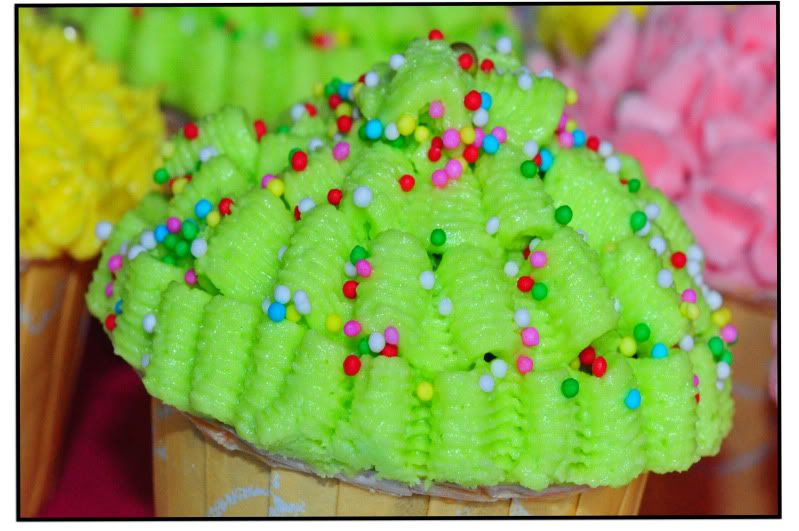 Lemon - Using Alteco #195 Special Decorating Tip for Drop Flowers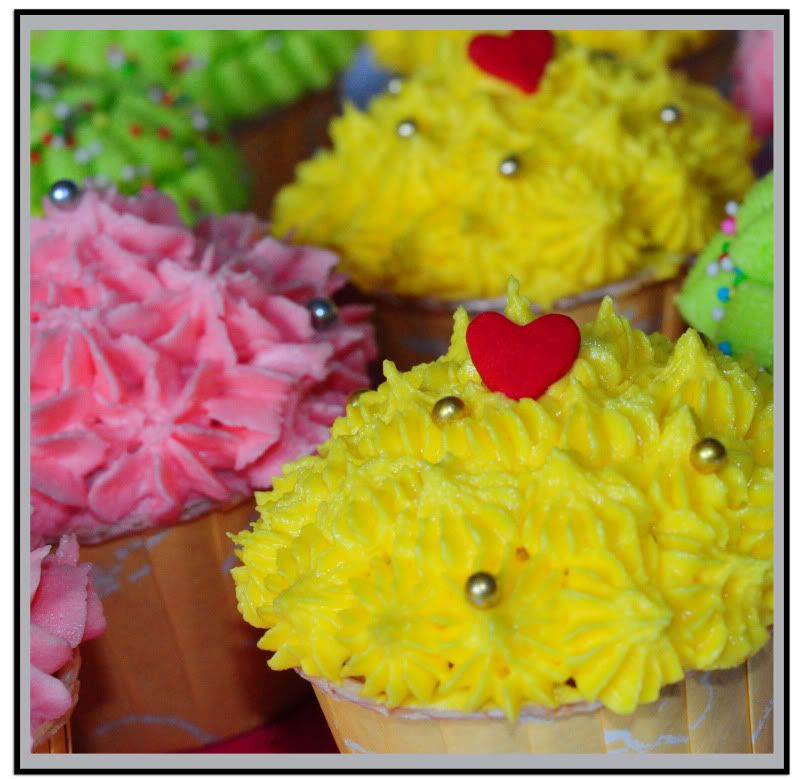 The feedbacks were good compared to regular icing although some still preferred the usual creamcheese frostings that I usually make.
All packed and ready to go in my Cupcake Courier.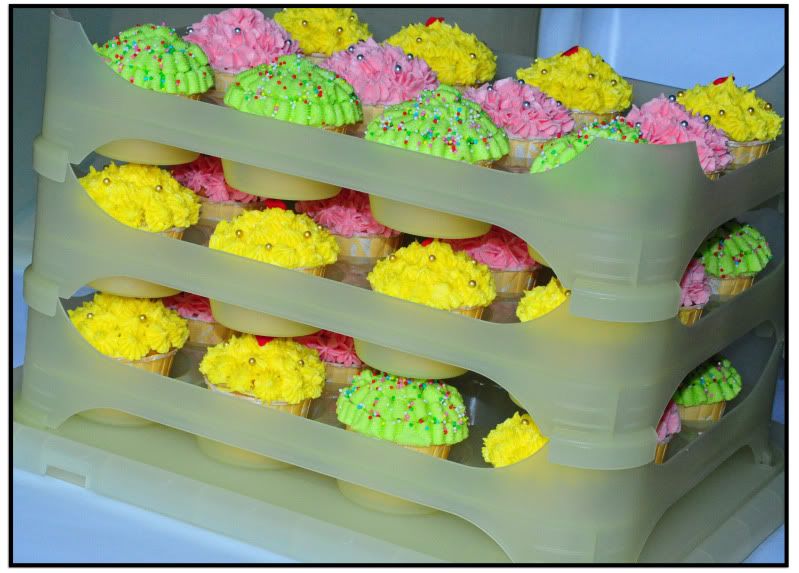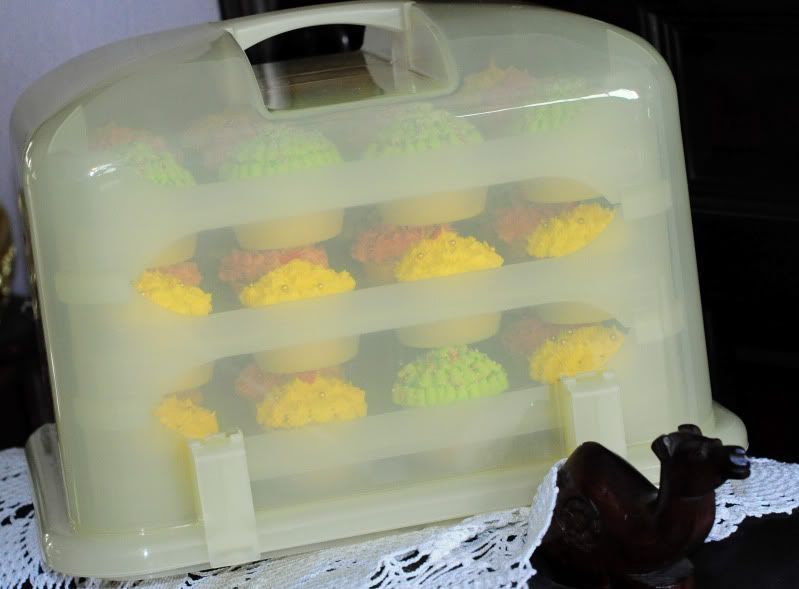 Postscript (1 August 2009)
At the request of several requesters, I have added information of the icing tip used for the different designs.